Every year all over the world 2 million people are estimated to have acute gastroenteritis. Diseases with diarrhea cause 1.5 million child deaths and are the second largest cause of death among kids below 5 years of age.
Diarrhea is a symptom of infection caused by bacteria, virüs or parasites ingested by the body by consuming water mainly contaminated by feces. In a community, frequency of occurence of diarrheal diseases increase with lack of access to clean water for drinking, cooking or cleaning purposes. In conditions where personal hygene levels are poor, diseases may be transfered among individuals. Food prepared or stored in poor conditions, or cleaned with contaminated water, even seafood caught in contaminated water might be causes of the diseases [15].
In developing countries, bacteria and parasites are the major causes of gastroenteritis and the incidents increase during the summer months, while in developed countries main causes are viruses and the cases extend to winter season [16].
Diarrhea and gastro enteritis is estimated that the number of infectious origin in Turkey decreased by 45.7% between the years 2011-2016.
GRAPH 11- NUMBER OF INFECTIOUS DIARRHEA AND GASTROENTERITIS (A09) CASES and POPULATION PERCENTAGES ACCORDING TO THE POSSESSION OF PIPED WATER SUPPLY SYSTEM (2011-2016)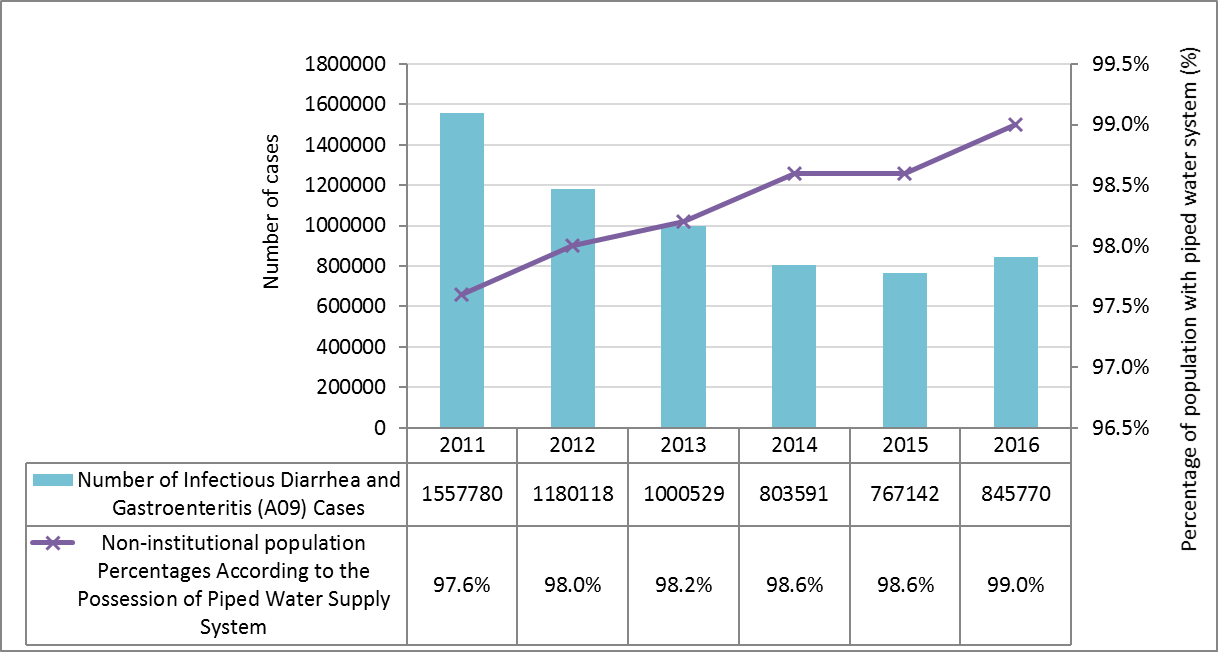 Sources:
For case numbers; Ministry Of Health, Public Health Institution of Turkey, 2016,
http://yeni.thsk.gov.tr/depo/thsk/strateji-db/birimler/stratejik-yoneti-planlama/idari-faaliyet-raporu/2016_faaliyet_raporu-13.03.2017.pdf
For data on ownership status of the piped water system; TURKSTAT,  Income and Living Conditions Survey
Major factors of acute viral gastroenteritis are; rotavirus and adenovirus esp. for children under 2 years; norovirus and sapovirus in sporadic or epidemic forms for individuals at any age; astroviruses for children less than 6 [15].
According to the assessment done on the data on incidents notified according to the 2016 ICD10 diagnostic codes identified by the Ministry of Health, it's concluded that incidents raise between June and september, while rotavirus is the most observed factor in the samples submitted to the reference laboratory[17].
GRAPH 12- YEARLY DISTRIBUTION OF NUMBER OF ACUTE VIRAL ENTERIC INFECTION CASES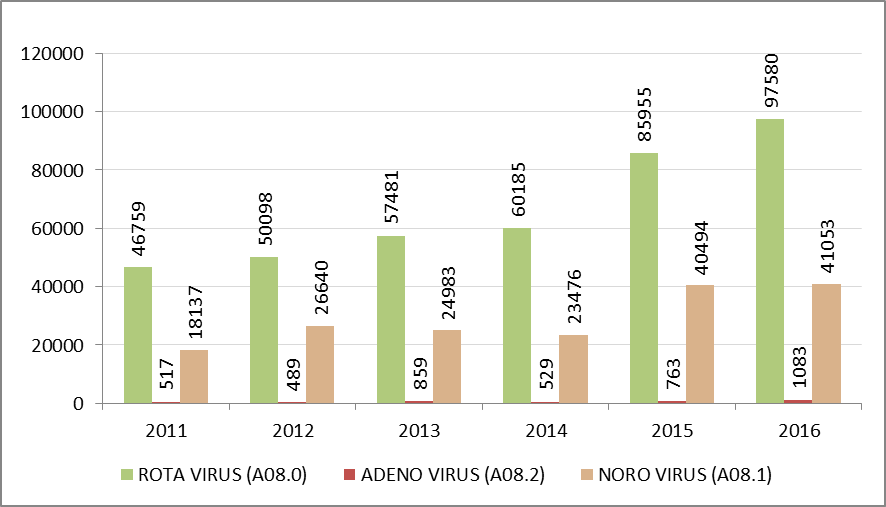 Source: Directorate General  for Public Health, 2016,
http://yeni.thsk.gov.tr/depo/thsk/strateji-db/birimler/stratejik-yoneti-planlama/idari-faaliyet-raporu/2016_faaliyet_raporu-13.03.2017.pdf
Lack of access to reliable drinking water is a major cause of diseases and death due to contaminants, chemical pollutants and lack of hygiene.
TURKSTAT data implies that, while 95.3% of the non-institutional population benefited piped water supply system in 2006 (non-institutional population: all population living in dwellings within the country), this ratio was 99% in 2017. Piped water supply system is identified as supply of potable water by pipes into the dwellings in municipal water network.
The share of the world population with access to an improved water source rose from 86 % in 2005 to 91 % in 2015 [18].