1.2- Urban-Rural Population Ratio

Urban population appears to be a driving force leading to pressure on environmental assets. Rapid growth of urban population, correspondingly brings about an increase in urban expansion, infrastructure, transportation, housing, industrial area, and energy needs, which in the end leads to environmental problems such as air pollution, wastewater and noise. Urbanisation is one of the most important processes which are experienced parallel to industrialization and economic development.
According to the first census conducted in 1927 In Turkey, population was 13,648,270, and 75.8% of the people lived in towns and villages and 24.2% in cities; however, after 1950 population started to agglomerate in urban areas.
According to the World Bank data, The proportion of population living in urban areas in 2017 was 74.4% in Turkey and 76.4% in the EU-28 countries, both are , considerably above the world average of 54.3% [5].
GRAPH 3- URBAN AND RURAL POPULATION RATES THROUGH THE YEARS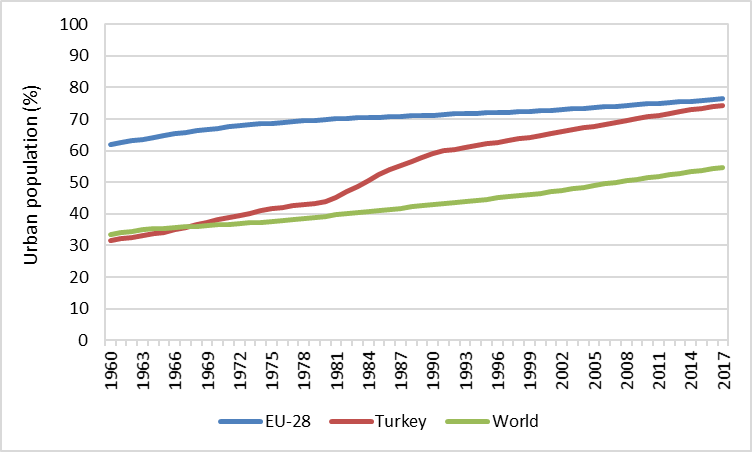 Source:The World Bank (World Development Indicators)
https://data.worldbank.org/indicator/SP.URB.TOTL.IN.ZS?contextual=default