15.3- Tourist Overnights and Bed Places per 1000 Inhabitants

This pressure indicator is obtained by dividing the total overnight stays in the tourism facilities and the total bed places capacity of the certificated tourism facilities by total population; expressed as per 1000 people.
Increasing tourist number may have adverse effects on environment especially in a region within particular time period by excessive consumption of resources (water use, waste generation) causing serious environmental problems.
The number of bed places per 1000 inhabitants in Turkey with tourism facility certificate has increased steadily over the years. Both figures show a general increasing trend in years; while tourist overnights per 1000 inhabitants show fluctuations in some years. As of 2017, the number of beds per 1000 inhabitants in Turkey 12, while the number of nights spent per 1000 inhabitants was in 1438.
According to EUROSTAT data, there were an estimated average of 27 bed places in hotels and similar establishments in the EU-28 and 1662 nights spent by non-residents per 1000 inhabitants in 2013 [88].
GRAPH 125 – TOURIST OVERNIGHTS AND BED PLACES PER 1000 INHABITANTS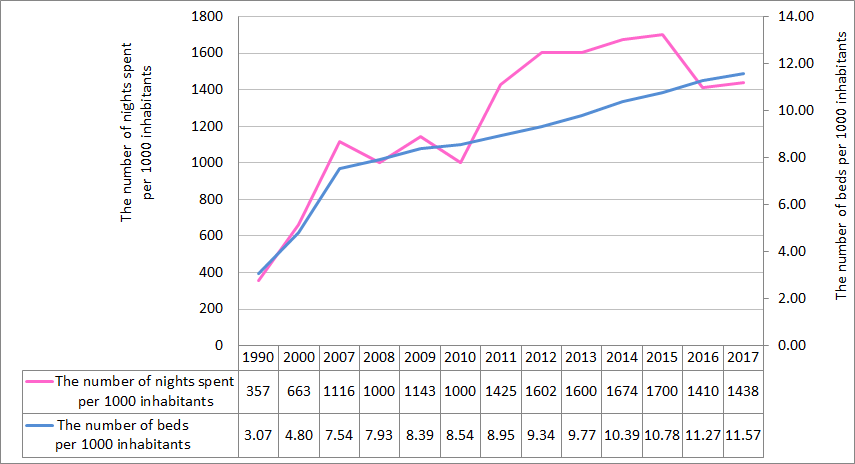 Note: One most consider which that total number of accommodation establishments and bed places currently differs from on a statistical year to another which will be reflected in the final number of overnights and tourist arrivals.
Sources: The number of nights spent and bed places data for Ministry of Culture and Tourism, population data for TURKSTAT.