4.6- Temperature

This state indicator represents the change in annual average temperature in time series, globally and in Turkey.
The combined average temperature over global land and ocean surfaces in 2017 was 14.7°C, which was 0.42 °C above the 1981-2010 average (14.3°C). Annual mean temperature for Turkey in 2017 is 14.2°C, which is 0.7°C above the 1981-2010 average (13.5°C). Lowest temperature in 2017 was in February as -31.9°C in Ağrı while highest temperature was observed in August as 46.9°C in Cizre.
From 1971 to 2017, highest mean temperature in Turkey was recorded in 2010 as 15.5°C while the lowest was in 1992 as 11.8°C. There have been positive temperature anomalies in Turkey since 1994 (except 1997 and 2011) [26].
GRAPH 18- ANNUAL MEAN TEMPERATURE TRENDS IN THE WORLD AND TURKEY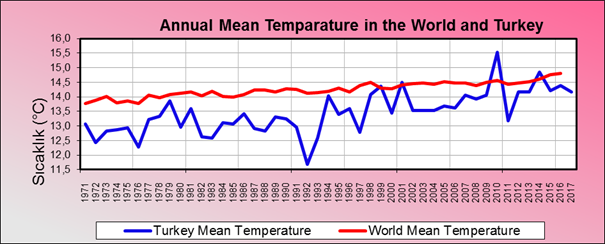 Sources:
For World data; National Oceanic and Atmospheric Administration/ U.S. Department of Commerce (NOAA).
For Turkey data; Ministry of Agriculture And Forestry, Turkish State Meteorological Service