11.6- Share of Renewable Energy Sources in Gross Final Energy Consumption

This response indicator displays the ratio of the energy produced by the renewable sources. Renewable energy sources are environment-friendly and have much lower CO2 emission values per power unit generated.
The most common renewable energy sources in Turkey are solar, wind, hydraulic, geothermal and biomass (wood, animal and plant residues) energy forms. While the primary energy supply is 136,229 thousands TOE, domestic gross energy production has reached to 35,374 thousands TOE at the end of 2016. Renewable resources provide 47.8%, equal to 16,910 thousands TOE, within the domestic gross energy production.
In Turkey, while contribution of renewables to total energy consumption was 19.4% in 1990, in parallel with increasing energy demand, this figure decreased to almost 13.1% in 2016.
The share of renewable energy in EU-28 primary energy consumption increased from around 4.5% in 1990 to 13.4% in 2014 [67].
GRAPH 97- GROSS ENERGY PRODUCTION FROM THE RENEWABLE ENERGY SOURCES IN TURKEY and SHARE OF RENEWABLE ENERGY IN GROSS FINAL ENERGY CONSUMPTION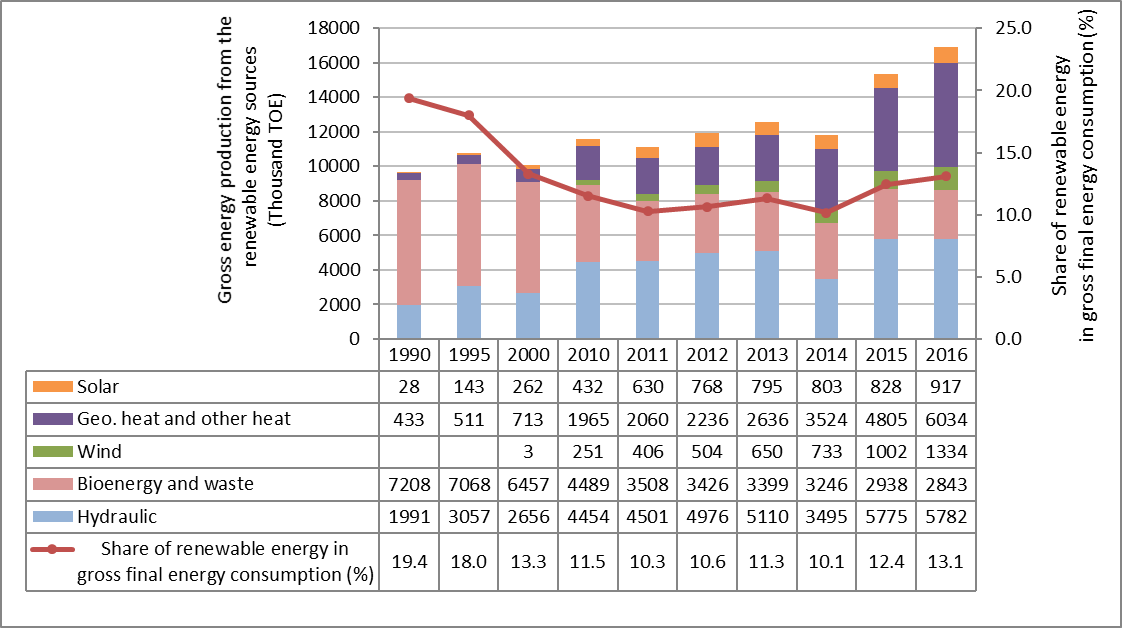 Source: Ministry of Energy and Natural Resources, http://www.eigm.gov.tr/en-US/Balance-Sheets