2.3- Sectoral Distribution of Gross Domestic Product

This indicator is a state indicator that shows contribution to GDP by agriculture, industry and services sectors.
The indicator represents as percentage, shares of economic activity branches in the GDP (consumer price index with current prices).
According to the TURKSTAT data, GDP at current prices according to the production method has increased by 10.8% compared to the previous year in 2016 to 2 trillion 590 billion 517 million TL. When the activities that constitute the gross domestic product at the current prices according to the production method are examined, In 2016, share of agriculture, forestry and fishery sector was 6.1%, share of industrial sector was 19.7%, share of construction sector was 8.8% and share of services sector was 53.6%.
GRAPH 8- IN 2015-2016, GROSS DOMESTIC PRODUCT AT CURRENT PRICES BY KIND OF ECONOMIC ACTIVITY (A10) (%)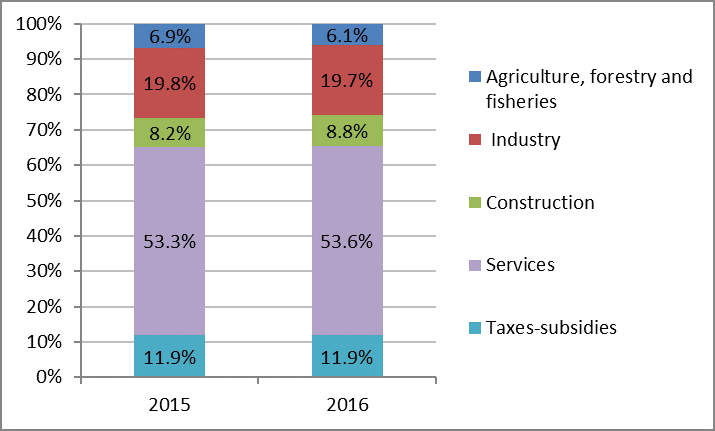 Source: TURKSTAT, Quarterly Gross Domestic Product, IV. Quarter: October-December, 2016
Note: Figures may not sum up to 100 due to rounding.
NACE Rev. 2 used for classification of Economic Activities.