Resource efficiency is the ratio of GDP to domestic material consumption (DMC). DMC equals the extractions of materials used by producer units in the economy plus imports — called direct material input (DMI) — minus exports.
In the EU-28 economy based on a comparison to the 2000 resource efficiency by 34% between 2000 and 2015, while in Turkey has increased by 30% [8].
GRAPH 5- RESOURCE EFFICIENCY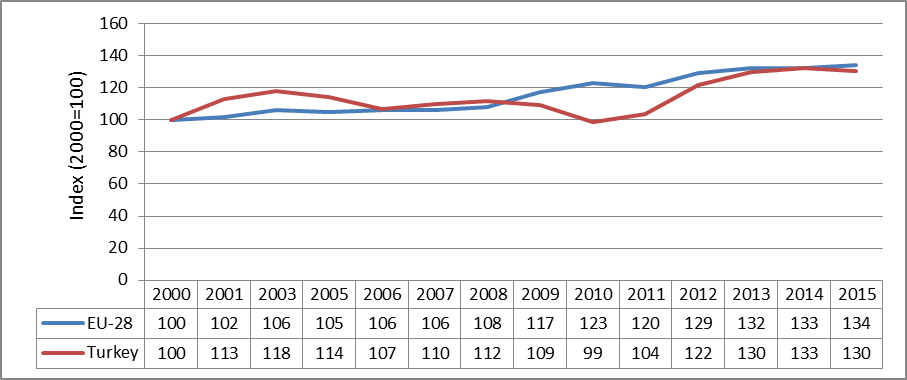 Source: EUROSTAT, http://appsso.eurostat.ec.europa.eu/nui/submitViewTableAction.do
If comparisons of resource efficiency between countries are to be made then the GDP in purchasing power standards should be used (code: RP_PPS). According to this, while the gross domestic product (GDP) of 1.5 euros was generated for every kilogram of material consumed in 2015 in Turkey, while this figure was 2.2 euros in 2017 in EU-28 countries [8].
Domestic material consumption per capita represents the level of efficienct use of production and material input for the national economy. In Turkey, domestic material consumption (DMC) per capita has increased from 9.5 tons in 2000 to 12.9 tons in 2015 with a 35.8% incerease. Between 2000 and 2015 per capita DMC of the EU-28 decreased from 15.6 tonnes to 13.5 tonnes, decreasing by 14.1%.
Worldwide material extraction — which equals the world's DMC as the global trade balance is zero — was 11.9 tonnes per capita in 2015, having increased steadily from 8.5 tonnes per capita in 2000 [8].
As seen on the Graph 6, per capita DMC of Turkey was below the EU-28 average, but higher than the world average in 2015.
GRAPH 6- DOMESTIC MATERIAL CONSUMPTION PER CAPITA BY YEARS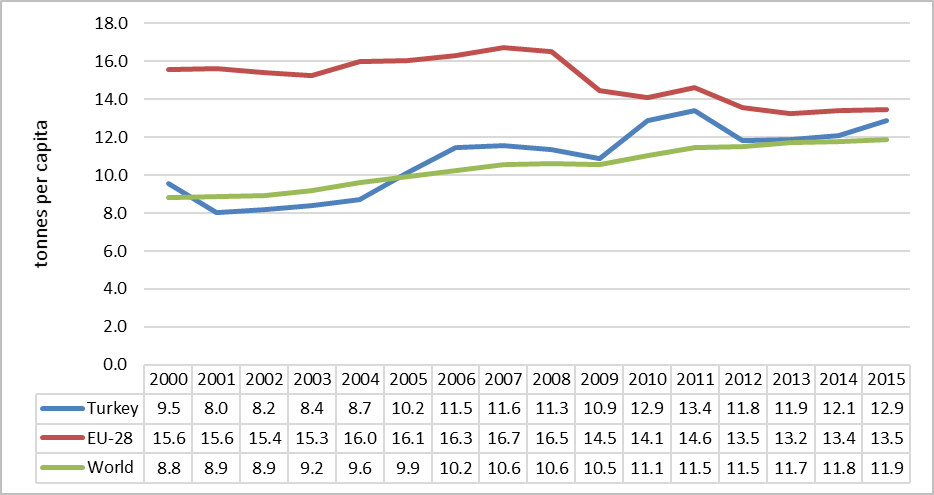 Sources: https://ec.europa.eu/eurostat/statistics-explained/index.php/Material_flow_accounts_and_resource_productivity#Material_consumption_by_EU_Member_State
Category distribution of the material consumption both in Turkey and in the EU-28 shows that non- metallic minareals consumption constituted nearly half of the total material consumed.  The consumption of non-metallic minerals is influenced by countries' by levels of construction activities (investments), population densities, and size of infrastructures such as e.g. road networks [8].
GRAPH 7- DOMESTIC MATERIAL CONSUMPTION by MAIN MATERIAL CATEGORY (tonnes per capita)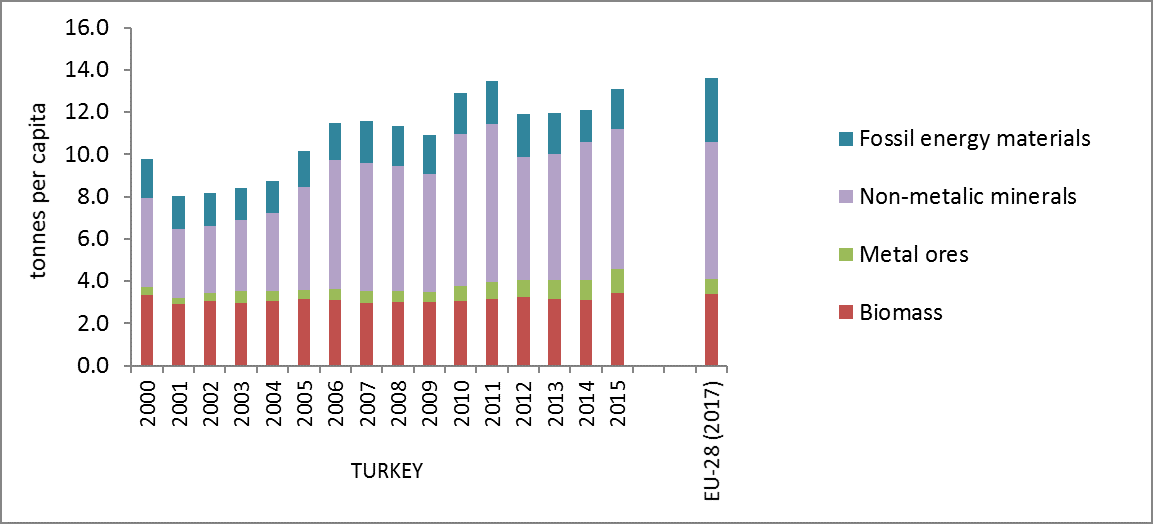 Sources:
1) TURKSTAT
2) EUROSTAT (online data code: env_ac_mfa; demo_gind)