13.4- Organic Farming Areas and Amount of Production

Organic farming is an environmentally friendly farming practice and size of the land that organic farming is practiced or the production amount can be deemed as a response indicator. In 1985 organic agriculture applications started with 8 types of crops due to export demand. In 2002, 12,428 farmers planted on 89,827 hectares (including wild harvesting areas) and harvested 310,125 tonnes and 150 types of organic products. In 2016 this amount reached to 2,473,600 tonnes in 238 product types and 67,878 farmers who planted on 523,777 hectares. Within the 523,777 hectares including wild harvesting areas, 489,671-hectare land is used for cultural farming. In 2016, total land used for organic farming (including wild harvesting areas) has grown by 1.7% and amount of production by 35.2% compared to those in 2015.
For 2016, the share of land used for organic farming in total agricultural land is 2%. According to 2015 data, World average is 1.1% and the EU average is 6.2% [75].
GRAPH 114- THE SHARE OF ORGANIC FARMING LAND IN TOTAL AGRICULTURE LAND (%)
Source: Ministry of Food, Agriculture and Livestock.
Notes: (1) Transition period included. (2) Wild harvesting areas are included.
GRAPH 115- DATA ON ORGANIC LIVESTOCK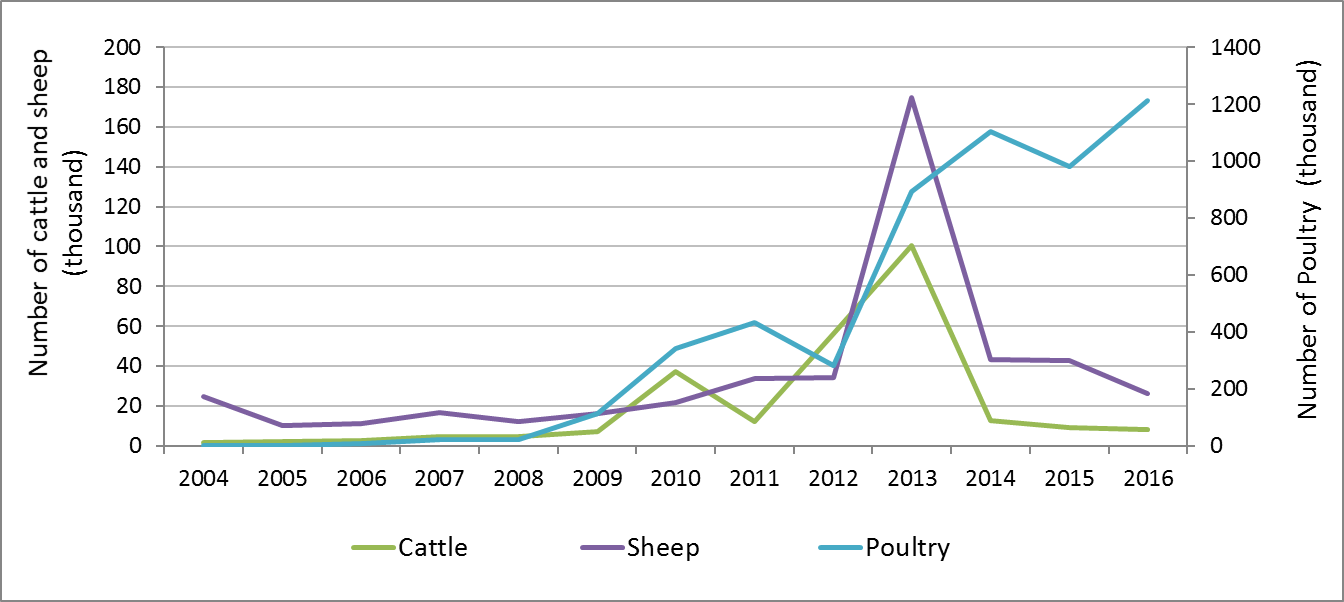 Source: Ministry of Food, Agriculture and Livestock