15.1- Number of Tourists

Number of visitors to Turkey within a particular time represents the amount of pressure put on the environment due to extensive consumption of natural resources in that period, besides wastewater, waste, noise, etc.
The number of tourists is found by subtracting the number of daily tourists from the total of foreign visitors and the visiting Turkish citizens residing abroad.
In 2003, 15,774,505 tourists visited Turkey, and this number increased to 37,599,529 in 2017. In 2017, the number of tourists increased by 24% compared to 2016.
GRAPH 122-  2003-2017 PERIOD NUMBER OF TOURISTS

Source: Ministry of Culture and Tourism
When the distribution of tourists visiting Turkey is considered by months, it is seen that tourists visited the country mostly in summer. In summer while water resource capacities are at minimum level, increasing water consumption per capita in touristic facilities bring about environmental problems related with water. Drawing an excessive amount of water from deep water wells is also a risk which increases the problem in sustainability of water resources.
GRAPH 123-  MONTHLY DISTRIBUTION OF TOURISTS VISITING TURKEY IN 2017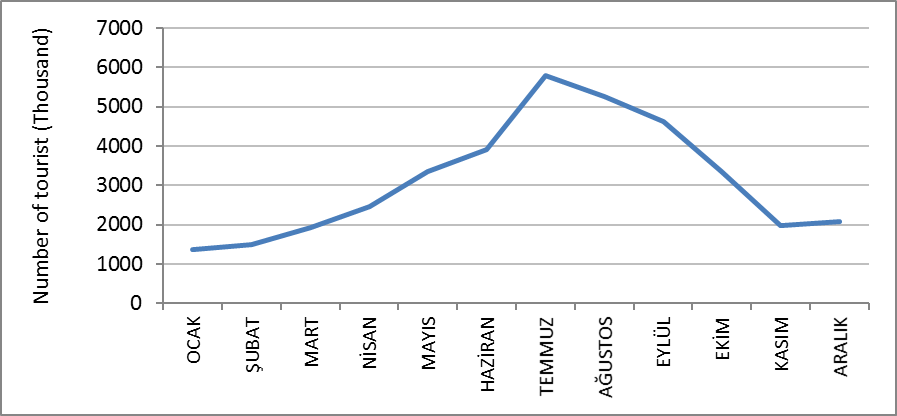 Source: Ministry of Culture and Tourism