7.2- Number of Landfills – Municipalities - Population Covered by Landfills

Number of urban waste management facilities in Turkey increased from 15 landfill sites in 2003, to 38 in 2008, 46 in 2010, 79 in 2014, 81 in 2015 and 84 in 2016, by also contribution of the European Union harmonization studies.
According to Ministry of Environment and Urbanisation data, 71% of the population (in total municipal population) was served by waste disposal and recovery facilities is in 2016.
By the end of 2023 it is targeted to refurbish the existing infrastructure and raise the ratio to 100%.
GRAPH 61- THE RATE OF POPULATION SERVED BY WASTE DISPOSAL AND RECOVERY FACILITIES IN TOTAL MUNICIPAL POPULATION (%) AND RATIO OF MUNICIPALITIES SERVED BY LANDFILLS THROUGH YEARS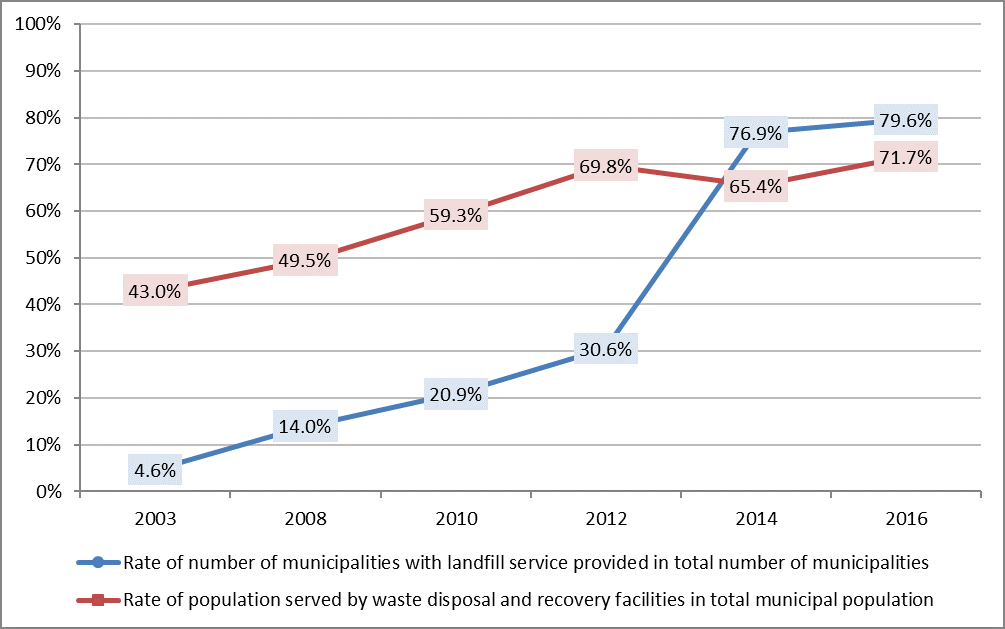 Source: Ministry of Environment and Urbanisation, General Directorate of Environmental Management