5.4- Number of Air Quality Monitoring Stations

As a response indicator, this shows the number and qualifications of the monitoring stations in order to obtain more reliable air quality data.
In Turkey there are 253 air quality monitoring stations most of which are located in urban areas representing domestic heating sources. A limited number of stations also represent traffic and industrial sources. However, according to European Union criteria, such stations should be established in respect to the area they represent; urban, suburban and rural; and with respect to source types as traffic, heating or industry. To determine the locations of the station to be founded accordingly, preliminary assessment studies have been being carried out since 2011.
Among the existing 253 stations in operation, 245 stations measure PM10, 57 stations PM2.5, 230 measure SO2, 145 stations measure NOx, 92 O3 and 74 stations measure CO. While determining the number of stations to be set up according to the European Union norms, the number of existing stations should be at least 330 with regard to population data reference. The Ministry foresees to meet this target by the end of 2018.
GRAPH 26- NUMBER OF AIR QUALITY MONITORING STATIONS THROUGH THE YEARS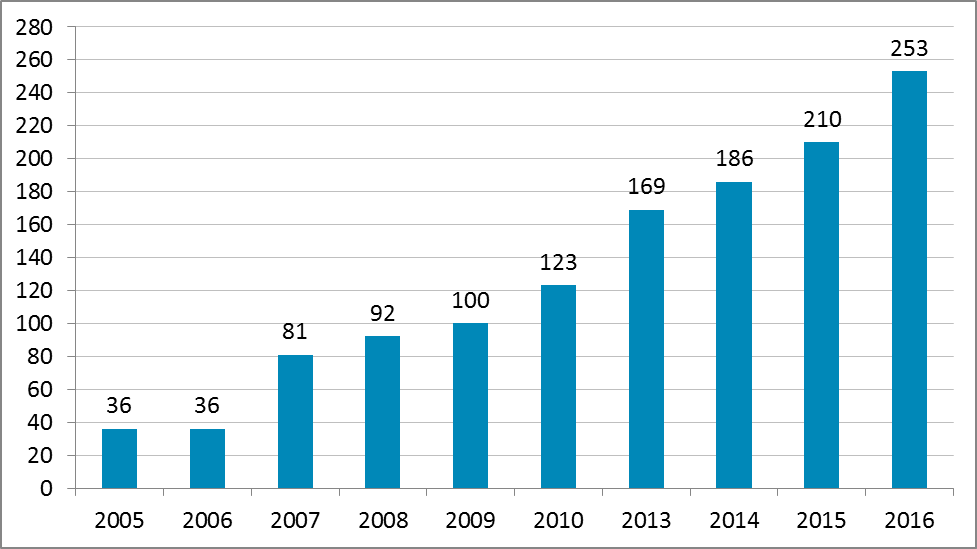 Source: Ministry of Environment and the Urbanisation, General Directorate of EIA, Permit and Inspection, Department of Laboratory, Monitoring, and Measuring