5.5- Number of Air Quality Monitoring Stations

As a response indicator, this shows the number and qualifications of the monitoring stations in order to obtain more reliable air quality data.
The 300 stations established in our country have been established in accordance with the European Union norms by being clissified based on both resource and area.
Air quality pre-evaluation studies conducted by the Ministry were utilized during the establishment of the stations.
Of the existing stations, PM10 paarmeters are measured in 285, PM2.5 in 132, SO2 in 258, NOX in 234, O3 in 160 and CO in 143 stations.
While determining the number of stations to be set up according to the European Union norms, the number of existing stations should be at least 330 with regard to population data reference. Establishment of new stations are ongoing in this regard.
GRAPH 27- NUMBER OF AIR QUALITY MONITORING STATIONS THROUGH THE YEARS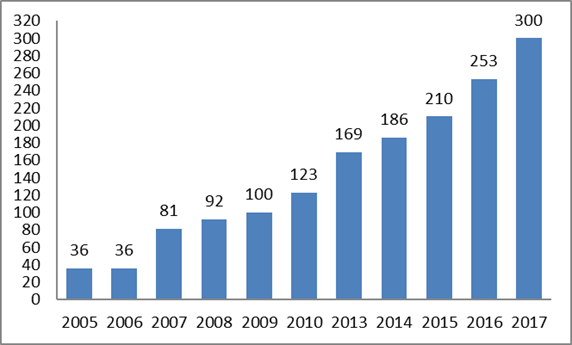 Source: Ministry of Environment and the Urbanisation, General Directorate of EIA, Permit and Inspection, Department of Laboratory, Measuring and Monitoring