This indicator is a response indicator and an important tool for monitoring the success of the policies implemented for the control of pollution arising from domestic wastewater. In order to use water more efficiently and protect available water resources, wastewater treatment is an important application. As a result of significant investments made by Turkey in this area, while in 1994, rate of number of municipalities served by wastewater treatment plants in total municipal number was 3%, in 2016 this number reached to 42%. The ratio of municipality population serviced by wastewater treatment facilities to the total municipal population has reached to 75% by year 2016 [40].
The cities with a population of more than 100,000 have priority in constructing wastewater treatment plants. By the end of 2016, 86.8% of the 235 municipalities that have a population of more than 100,000, have been benefiting from the wastewater treatment plant services.
Regarding the share of population connected to urban and other wastewater treatment; The highest connection rates in the EU-28 were recorded in the United Kingdom (100%; 2014 data, estimated), the Netherlands (99.4%; 2015), Malta (98.6%, 2015 data), Luxembourg (98.2%, 2015 data), Spain (96.9%; 2014 data) and Germany (96.2%; 2013 data) [41].
GRAPH 53- NUMBER OF MUNICIPALITIES AND POPULATION RATIOS SERVED BY WASTEWATER TREATMENT PLANTS (%)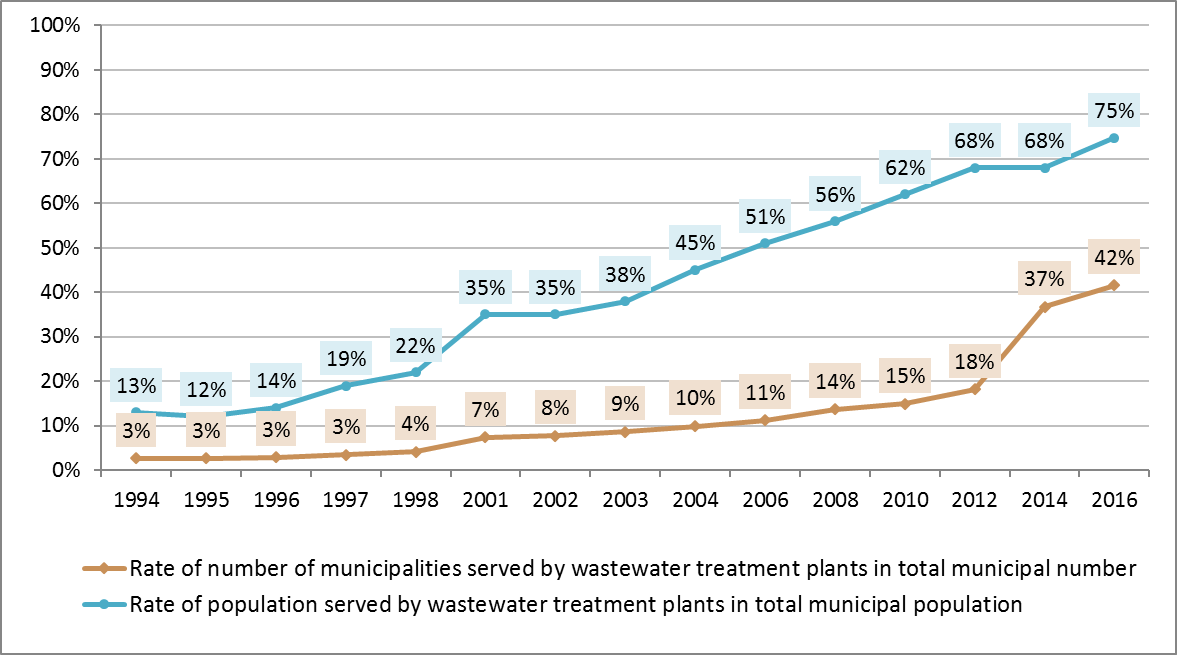 Source: TURKSTAT
The number of the domestic wastewater treatment plants which was 145 in 2002, reached to 881 in 2016. Looking at the distribution of these facilities, 15.3% of the wastewater treatment plants do advanced treatment, 55.8% biological treatment, 6.2% physical treatment and 22.6% of the plants were natural treatment facilities.
GRAPH 54- WASTEWATER TREATMENT PLANTS, BY THE END OF 2016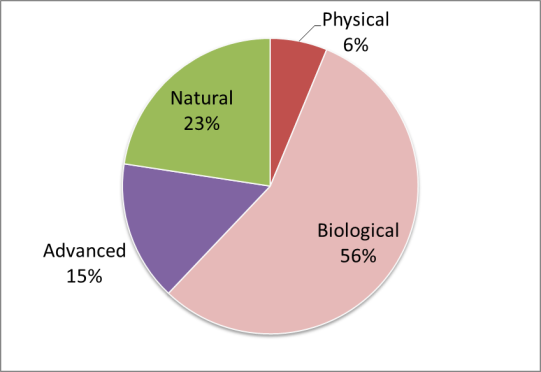 Source: TURKSTAT
According to TURKSTAT data, out of 4.5 billion m3 of wastewater discharged via sewerage system, 3.8 billion m3 was treated in wastewater treatment plants. The rate of advanced treatment was 44.5%, while the rate of biological treatment was 31.6%, the rate of physical treatment was 23.6% and the rate of natural treatment was 0.3% in 2016 [40].
The proportion of the population connected to at least secondary wastewater treatment plants has also been generally increasing and was above 80 % in 15 of the EU Member States for which data are available (various reference years). The shares of the population connected to at least secondary wastewater treatment plant were more than 95 % in the United Kingdom (2014 data), the Netherlands, Luxembourg, Germany (2013 data) and Austria (2014 data). This value accoding to 2014 data was 43.1% in Turkey [41].
According to TURKSTAT data, after the treatment operations of wastewater, 299 thousand tonnes of sewage sludge (in dry matter) was occurred in Turkey [40].
GRAPH 55- AMOUNT OF SEWAGE SLUDGE BY DISPOSAL AND RECOVERY METHODS, 2016 (1)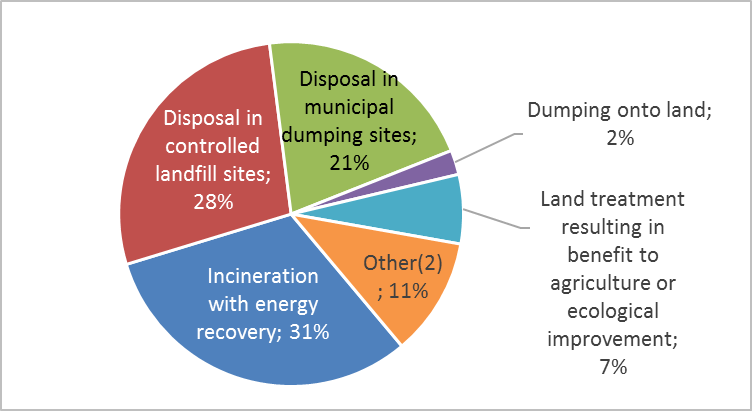 Source: TURKSTAT
(1) Data on sludge amount is in dry matter. (2) Includes sludge amounts temporarily stored, burried, etc.
Higher energy needs of wastewater treatment plants increase operational costs and negatively affect the operation of the facilities. Because of this reason, in order to provide the operating of wastewater treatment plants effectively, improve the receiving water body quality, Ministry of Environment and Urbanisation has issued a By-Law for Subsidizing Energy Costs of Wastewater Treatment Plants. 50% of the electricity cost of the treatment plants certified by the Ministry is subsidized in this regard. In this context, in 2017, 68.2 million TL to 463 plants were paid as energy incentives.
GRAPH 56- SUBSIDIZING ENERGY COSTS OF WASTEWATER TREATMENT PLANTS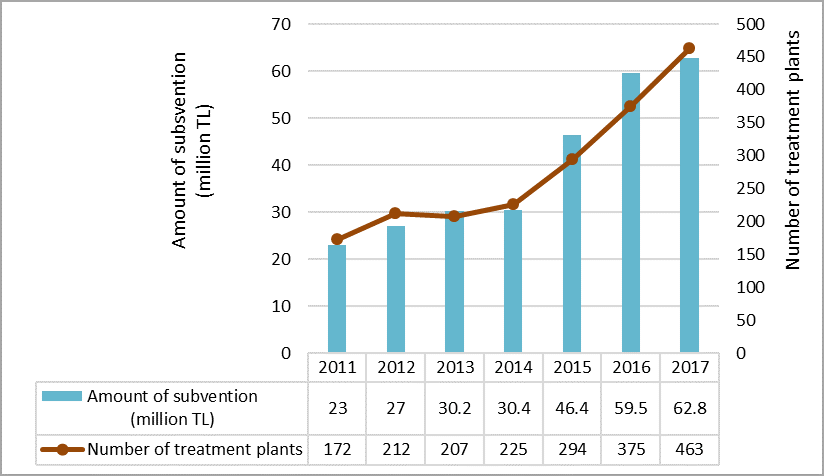 Source: Ministry of Environment and Urbanisation, General Directorate of Environmental Management