6.7- Municipal Water Supply

Indicator represents the pressure on water resources. Reservoirs are the most important and widely used water supply for the municipalities. In years of low precipitation, water drawn from the reservoirs may decrease while exploitation from rivers, lakes or ponds increases. In Turkey, total amount of water abstracted to water supply networks, 44.8% was abstracted from reservoirs, 26.8% from wells, 17.1% from springs, 9.5% from rivers and 1.8% from lakes/artificial lakes and sea in 2016.
In 2016, rate of the population served by water supply networks was calculated as 92.2% of Turkey's total population and 98.2% of total municipal population.
While in 1994, 3.24 billion m3 of water was drawn for municipal potable water supply in order to be distributed, this number increased to 5.84 billion m3 in 2016.
According to 2016 data, the ratio of the population served by drinking water treatment plants was calculated as 55% of the total population and 58.6% of the municipal population.
Out of 5.8 billion m3 of water delivered through water supply networks, 3.4 billion m3  (57.4%) was treated in drinking water treatment plants. 92.9% of this amount was treated by conventional methods, 6.1% was treated by advanced methods, and 1% was treated by physical methods [39].
GRAPH 52- WATER ABSTRACTION FOR MUNICIPAL WATER SUPPLY NETWORKS BY SOURCES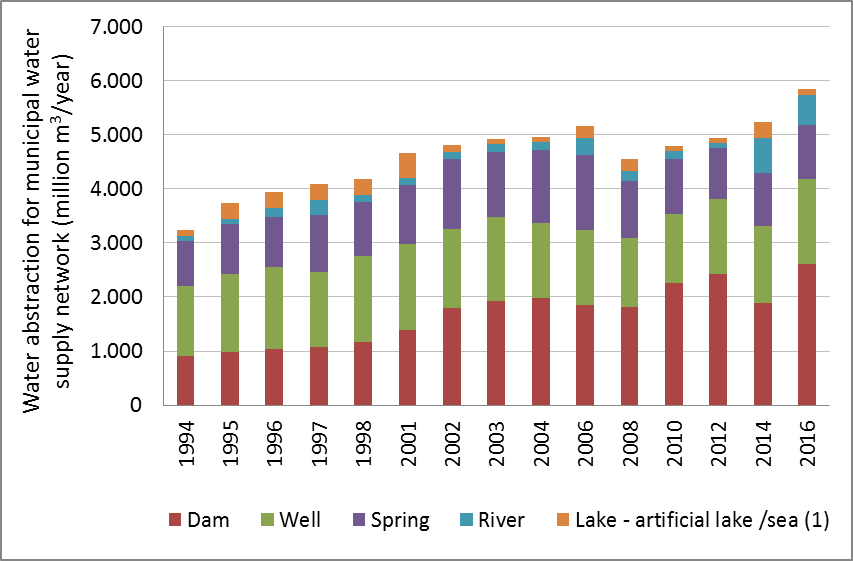 (1) Amount of water abstracted from sea is included from 2010 onwards.
Source: TURKSTAT