Regarding the waste management principles, the waste should be primarily minimized at source, then recovery, energy recovery and finally disposal methods should be applied in priority order.
To ensure the creation of a healthy and livable environment for the present and future generations by protecting and developing our natural resources and ecosystems; within the framework of sustainability principle, taking into consideration international norms and national priorities, developing strategies and legislation, minimizing waste at source classifying, collecting, transporting, temporary storage, recovery, disposal, reuse, purification, transformation into energy and final storage. and National Waste Management and Action Plan covering the period of 2016-2023 has been prepared within the framework of the responsibility for determining strategy.
National Waste Management and Action Plan prepared in our country, the current situation in our country, the issues that need to be improved or improved in the management system, population and waste projections, contribution of the stakeholders involved in waste management, periodic waste management activities planned to be completed until 2023, investments in waste management and financing needs.
According to EUROSTAT 2016 data, annual average amount of municipal waste generated per capita in the EU-28 countries is 426 kg, whereas for Turkey this figure is 426 kg [42].
In 2016, recycling rates of municipal waste in the EU-28 countries had reached to 45.3% [43]. According to National Waste Management and Action Plan this figure in Turkey is 13% at 2016.
GRAPH 58- DISTRIBUTION OF MUNICIPAL WASTE ACCORDING TO THE DISPOSAL/ RECYCLING METHODS IN 2016 ACCORDING TO  NWMAP(%)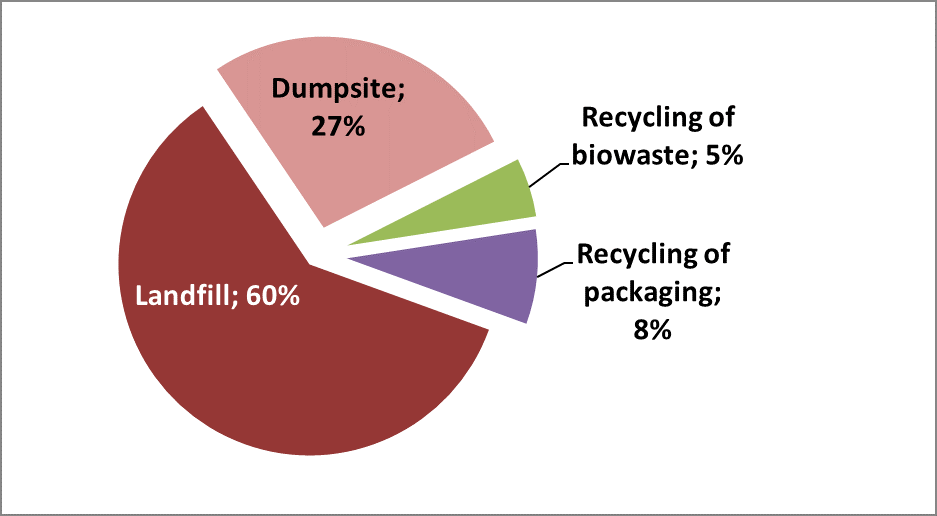 Source: Ministry of Environment and Urbanisation, General Directorate of Environmental Management
GRAPH 59- AMOUNT OF MUNICIPAL WASTE AND LANDFILL THROUGHOUT YEARS
Source: TURKSTAT