5.2- Large Combustion Plants (LCP)

This pressure indicator is significant as an important source of air pollution. LCPs use large amounts of fuels, mostly fossil fuels, to produce useful forms of energy. These plants generate a number of residues and waste products, and large amounts of emissions to all environmental media. Emissions from LCPs constitute a large proportion of total anthropogenic emissions. The aim of the legislation in this field is to reduce the emissions of acidifying pollutants, particulate matter and ozone precursors. More effective pollution reduction requires transition to lower carbon emitting energy production alternatives [28].
The draft By-Law on Integrated Pollution Prevention and Control, transposing the first and second chapters of the Industrial Emissions Directive (2010/75/EU) has been drafted and was expected to be issued within 2018.
Total thermal capacity of the LCP's in Turkey was 82 GWth in 2016 and elevated to 125 GWth in 2017 with a 42% increase rate.
LCPs are not distributed evenly across Europe, with a few countries dominating in terms of total fuel input and operating capacity. In 2015, four countries (Germany, Italy, Spain and the United Kingdom) contributed 52% of total operating capacity. As of 2015, total thermal capacity of the LCP's in Germany was 287 GWth, and in Italy 165 GWth [28].
GRAPH 24- NUMBER OF LARGE COMBUSTION PLANTS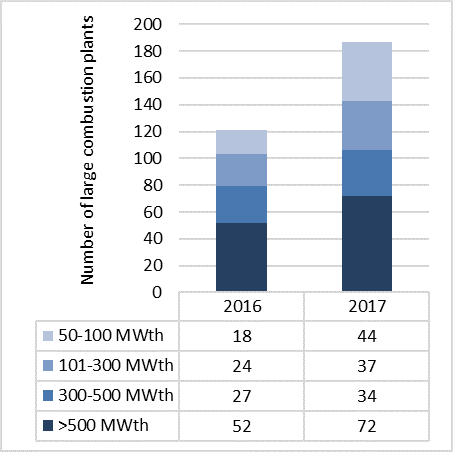 Source: Ministry of Environment and the Urbanisation, General Directorate of Environmental Management
GRAPH 25- TOTAL THERMAL CAPACITY IN LARGE COMBUSTION PLANTS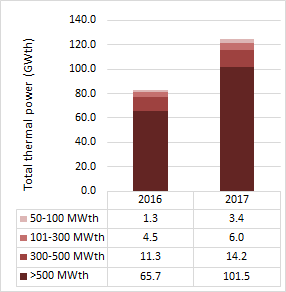 Source: Ministry of Environment and the Urbanisation, General Directorate of Environmental Management