10.3- Greenhouse Gases Emissions by Transport Types

This indicator is a pressure indicator. Contribution of transport to climate change and the distribution of this contribution according to transport modes, are important for the monitoring and control of emissions.
According to the TURKSTAT 2015 greenhouse gas emission inventory data, Turkey's total greenhouse gas emissions were 475.1 million tonnes CO2 equivalent, in 2015. Out of this, 75,789 kilotonnes of CO2 equivalent are transport related emissions. The share of transport related emissions in total greenhouse gas emissions was about 12.6% in 1990 and 16% in 2015.
91.4% of transport related CO2 emission was originated from road transport, 5.5% from domestic aviation, 1.5% from domestic navigation, 0.6% from railways and 0.9% from other transport modes.
In the EU-28, the transport sector contributed 21 % of total greenhouse gas emissions (international aviation and maritime emissions excluded) [53].
GRAPH 83- GREENHOUSE GAS EMISSIONS ACCORDING TO TYPE OF TRANSPORT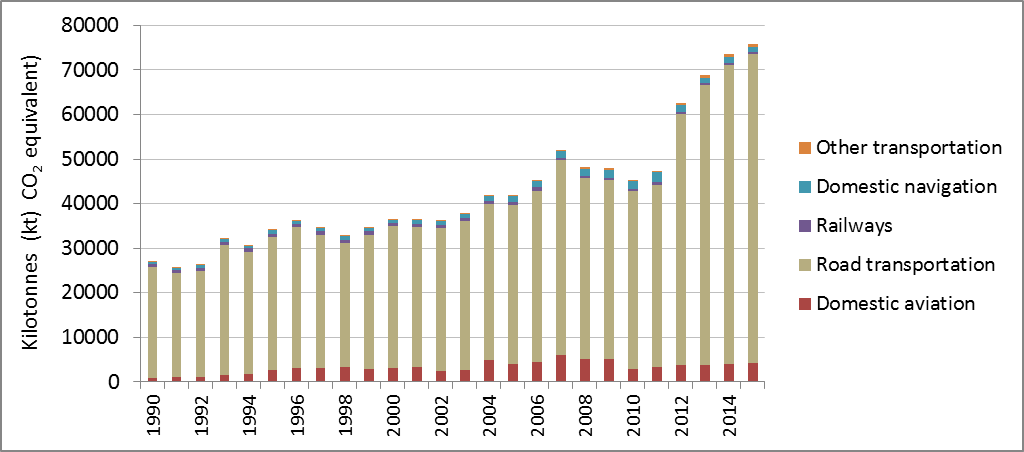 TABLE 32- GREENHOUSE GAS EMISSIONS ACCORDING TO TYPE OF TRANSPORT (kilotonnes CO2 equivalent)
| | | | | | | | | | | |
| --- | --- | --- | --- | --- | --- | --- | --- | --- | --- | --- |
| Years | 1990 | 1995 | 2000 | 2005 | 2010 | 2011 | 2012 | 2013 | 2014 | 2015 |
| Total Transport | 26,969 | 34,113 | 36,465 | 42,041 | 45,392 | 47,386 | 62,525 | 68,865 | 73,559 | 75,789 |
| Domestic aviation | 923 | 2,775 | 3,099 | 4,089 | 2,862 | 3,344 | 3,727 | 3,754 | 4,090 | 4,205 |
| Road transportation | 24,777 | 29,760 | 31,850 | 35,532 | 39,941 | 40,899 | 56,310 | 62,889 | 66,967 | 69,309 |
| Railways | 721 | 768 | 713 | 757 | 517 | 532 | 492 | 505 | 562 | 480 |
| Domestic navigation | 509 | 726 | 623 | 1,299 | 1,682 | 2,242 | 1,614 | 1,154 | 1,348 | 1,147 |
| Other transportation | 39 | 83 | 180 | 364 | 390 | 370 | 381 | 563 | 593 | 647 |
Source: TURKSTAT