13.5- Good Agricultural Practices

Good agricultural practice is an agricultural production which is not harmful to enviroment, human and animal health. With these practices protection of natural resorces, tracebility and sustainability are enhanced in agriculture and food safety. In this regard, the indicator is a response indicator.
Good Agriculture Practices (GAP) are carried out according to good agricultural practices legislation published by Ministry of Food, Agriculture and Livestock. to ensure GAP, product has to be traceable from the field to the dining table, and every process has to be recorded. Pesticides, fertilizers and etc. should be used according to the results of analyses and be kept under control. The last product is certificated according to the report given by the control institution.
In Turkey, Good Agricultural Practices Certificate started to be given in 2007. In 2007, GAP certification has been extended to 149,693 tons of production amount on 5,361 hectares of land while this figure increased to 5,027,892 tons of production on 474,108 hectares in 2016. Compared to 2015, good agriculture practices application area increased by 36.8% and the production amount by 53.7% in 2016.
Turkey aims to increase the rate of good agriculture practices production areas over total agricultural land (excluding fallows) upto 10% by 2023 [75].
TABLE 36- GOOD AGRICULTURAL PRACTICES BETWEEN 2007 AND 2016
 

Number of Provinces

Number of Producers

Production

Area (ha)

Production amount (tonnes)

2007

18

651

5361

149,693

2016

64

55,609

474,108

5,027,892

% Changes (2007-2016)

-

8442

8744

3259
GRAPH 116- GOOD AGRICULTURAL PRACTICES PRODUCTION AREAS AND PRODUCER NUMBER BY THE YEARS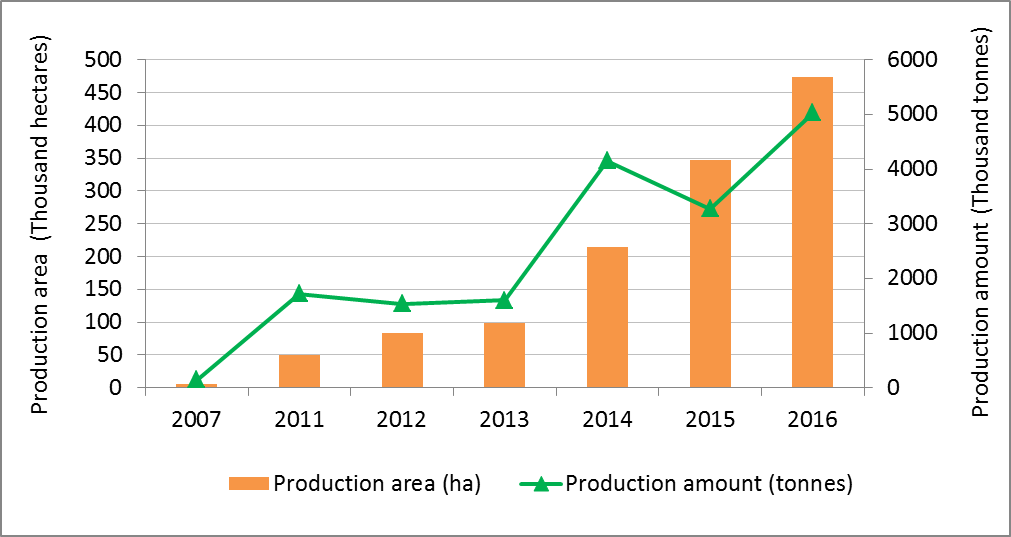 Source: Ministry of Food, Agriculture and Livestock