14.1- Fisheries Production

This indicator is a pressure indicator. There is 24 million ha sea area and 1.5 million ha inland water in Turkey. Based on the TURKSTAT data, in 2017, fisheries production increased by 7.2% in 2017 with respect to the previous year and occured as 630,820 tonnes. The total production composed of marine fish by 42.8%, other seafood by 8.3%, inland fish and aquatic food by 5.1% and aquaculture production by 43.8%.
In 2017, capture of fishery products increased by 5.7% and aquaculture increased by 9.1% compared to the previous year. While the production made by capture was 354,318 tonnes, aquaculture production occurred as 276,502 tonnes. 37.6% of the amount of aquaculture production took place in inland waters and 62.4% in seas. Within all the production of seafood by capture, East Black Sea Region lead with 49% of the total production It's followed by West Black Sea Region with 24.2%, Aegean Region with 14.8%, Marmara with 7.7% and Mediterranean with 4.3% [85].
In order to protect fishery resources and ensure sustainable management thereof, regulations regarding zones, season, size, species, distance, depth and equipment related to fishing are issued [86]. Furthermore, effectiveness of the activities such as monitoring of fish stocks, protection of endangered species, replenishing of the fish stocks, monitoring and mitigation of water pollution should be enhanced.
GRAPH 120- FISHERIES PRODUCTION DATA BY YEARS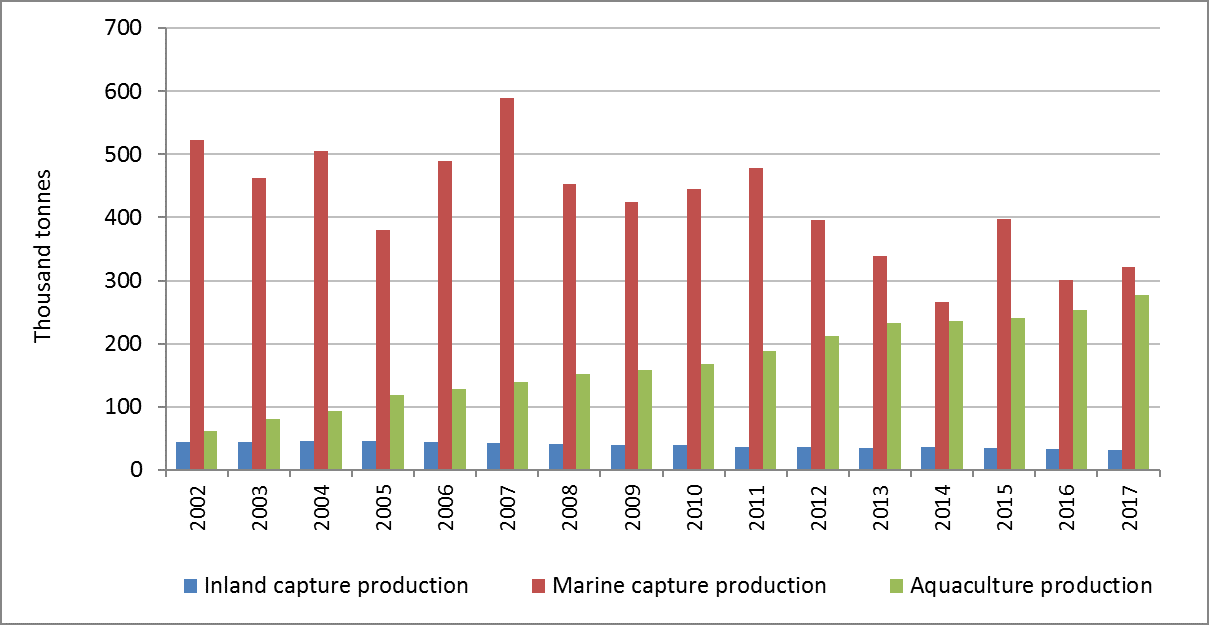 Source: Ministry of Agriculture and Forestry, TURKSTAT