10.5- Final Energy Consumption by Mode of Transport

Energy consumption is an important driver of environmental pressures, most notably climate change. Reductions in fuel consumption in the transport sector, and/or reductions of its related impacts, may be achieved via three primary measures: reduce transport demand by limiting the number of trips and their length; shift to more fuel efficient transport modes; increase the energy efficiency of vehicles and their energy sources; i.e: fuel switching (shifting to renewable or low carbon fuels such as sustainable biofuels or using renewable generation technologies for electric or fuel cell vehicles) [54].
Total energy consumption by the transport sector as a whole was 26,756 thousand TOE (Tonnes of Oil Equivalent) in 2016, with a 206.7% increase compared to 1990. Excluding the 284 thousand TOE consumed by pipeline transport, 93.9% of the total transport consumption of 26,472 thousand TOE was consumed by road transport. 5.4% of the consumption was by aviation, 0.2% by domestic navigation and 0.5% consumed by railroad transport.
Energy consumption by aviation increased by 359% from 1990 to 2016. This was followed by road transport with an increase of 210%. The amount of energy consumed for maritime transport decreased by 70% compared to 1990 and the amount of energy consumed for railway transport has decreased by 46%.
According to 2015 EU-28 data, 94.7% of the final energy consumption by transportation was by road transport, 1.8% by domestic aviation, 1.5% by domestic navigation and 2% by railroad transport [55].
GRAPH 85- FINAL ENERGY CONSUMPTION BY MODE OF TRANSPORT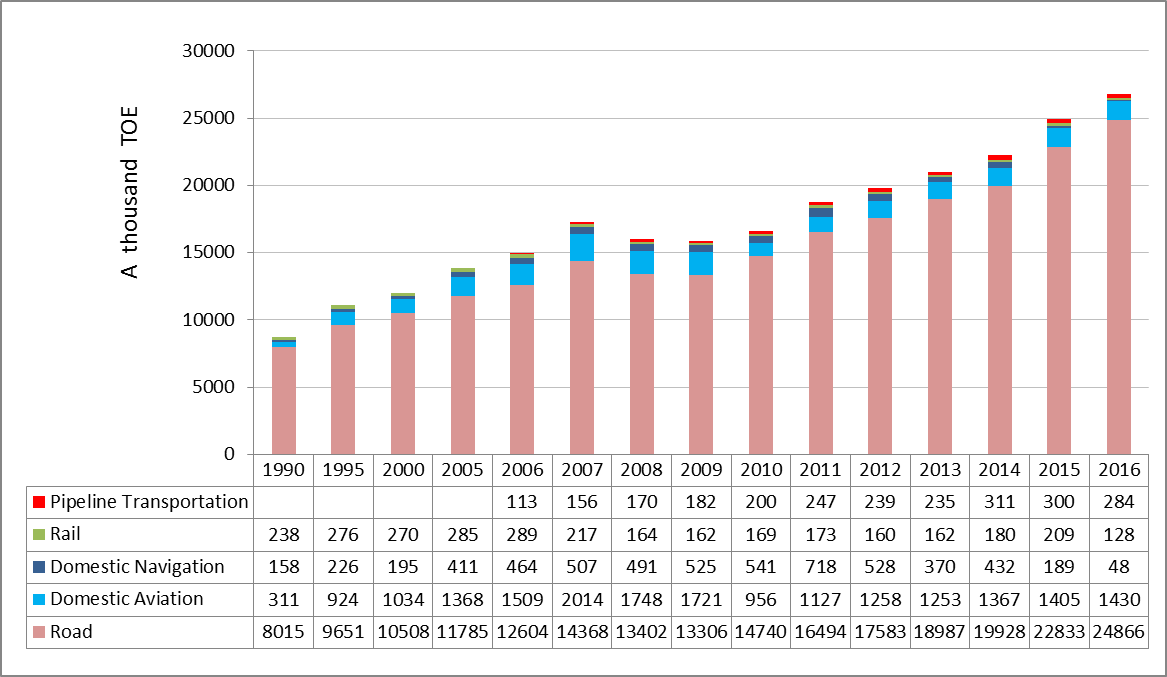 Source: Ministry of Energy and Natural Resources, http://www.eigm.gov.tr/en-US/Balance-Sheets
Fuel consumption according to transport mode:
In 2016, fuel consumption was 27,848,652 tons in road transport, 396,816 tons in maritime transport and 1,123,702 tons in aviation. Out of the 27,848,652 tons consumed in road transport, 78.9% (21,970,270 tons) was diesel fuel, 11.3% (3,141,901 tons) were LPG and 9.8% (2,736,482 tons) was gasoline.
GRAPH 86- FUEL CONSUMPTION BY MODE OF TRANSPORT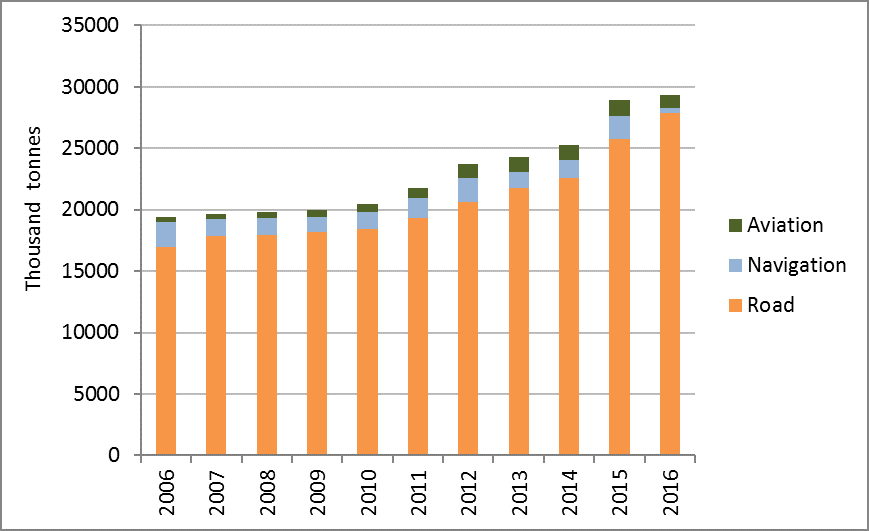 Source: Republic of Turkey Energy Market Regulatory
GRAPH 87- FUEL CONSUMPTION BY ROAD TRANSPORT ACCORDING TO THE FUEL TYPES (1)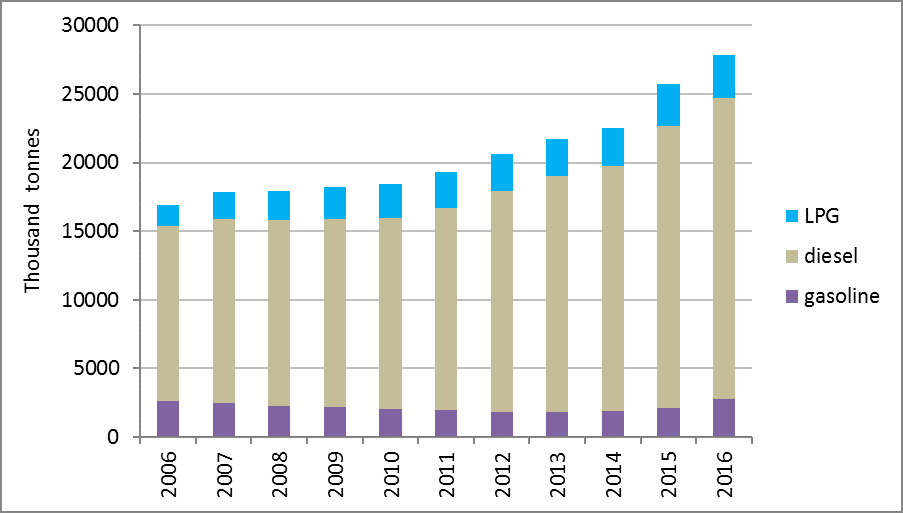 Source: Republic of Turkey Energy Market Regulatory
(1) Data includes dealer sales (including vehicle recognition system sales), sales to the free user license holders and military deliveries; but military sales directly by the refineries are excluded