Energy consumption is an important driver of environmental pressures, most notably climate change. Reductions in fuel consumption in the transport sector, and/or reductions of its related impacts, may be achieved via three primary measures: reduce transport demand by limiting the number of trips and their length; shift to more fuel efficient transport modes; increase the energy efficiency of vehicles and their energy sources; i.e: fuel switching (shifting to renewable or low carbon fuels such as sustainable biofuels or using renewable generation technologies for electric or fuel cell vehicles) [60].
Total energy consumption by the transport sector as a whole was 28,425 thousand TOE (Tonnes of Oil Equivalent) in 2017, with a 225.9% increase compared to 1990. Excluding the 392 thousand TOE consumed by pipeline transport, 93.3% of the total transport consumption of 28,033 thousand TOE was consumed by road transport. 4.5% of the consumption was by aviation, 1.4% by domestic navigation and 0.7% consumed by rail transport.
Energy consumption by aviation increased by 309% from 1990 to 2017. This was followed by road transport with an increase of 226% and by maritime transport with an increase of 149%. The amount of energy consumed for rail transport has decreased by 14%.
According to 2016 EU-28 data, 94.7% of the final energy consumption by transportation was by road transport, 2% by railway transport, 1.8% by domestic aviation and 1.4% by domestic navigation [61].
GRAPH 85- FINAL ENERGY CONSUMPTION BY MODE OF TRANSPORT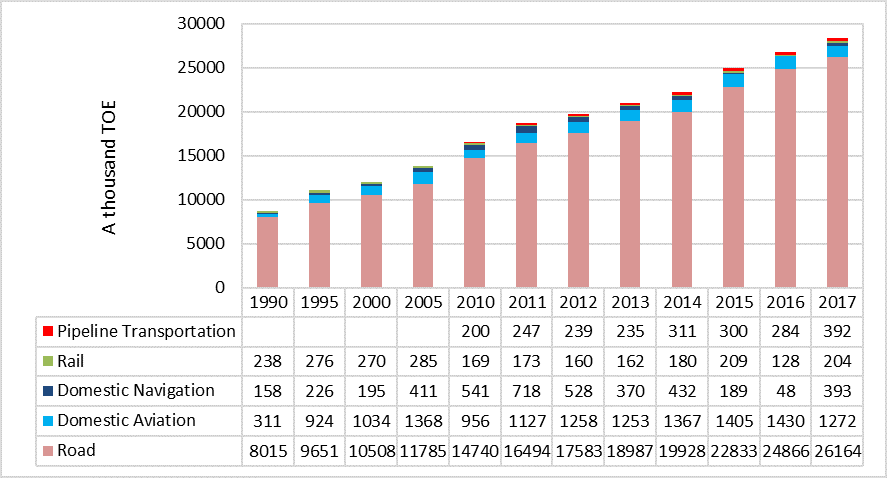 Source: Ministry of Energy and Natural Resources, http://www.eigm.gov.tr/en-US/Balance-Sheets
Oil derivatives constituted 99% of the 28,033 thosand TOE energy consumed in transport sector (excluding the pipelines) in 2017 while natural gas had the 0.2%, biofuels and waste 0.4% and electricity had 0.3% share.
In the EU-28 countries, in 2016, energy consumption of the transport sector (including road, rail, domestic aviation and navigation) was broken down as: oil derivatives 93.6%, biofuels 4.4%, electricity 1.4% and natural gas 0.4% [62].
In 2016, fuel consumption was 30,565,439 tons in road transport, 430,870 tons in maritime transport and 1,129,055 tons in aviation. Out of the 30,565,439 tons consumed in road transport, 77.8% (23,777,421 tons) was diesel fuel, 13.3% (4,080,359 tons) were LPG and 8.9% (2,707,659 tons) was gasoline.
GRAPH 86- FUEL CONSUMPTION BY MODE OF TRANSPORT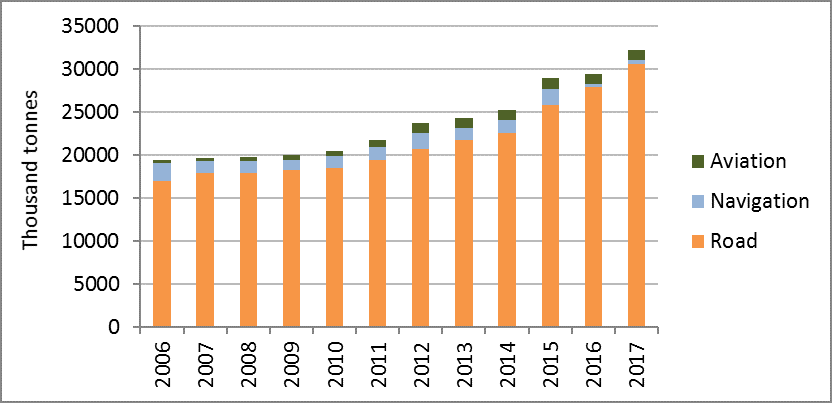 Source: Republic of Turkey Energy Market Regulatory Authority
GRAPH 87- FUEL CONSUMPTION BY ROAD TRANSPORT ACCORDING TO THE FUEL TYPES (1)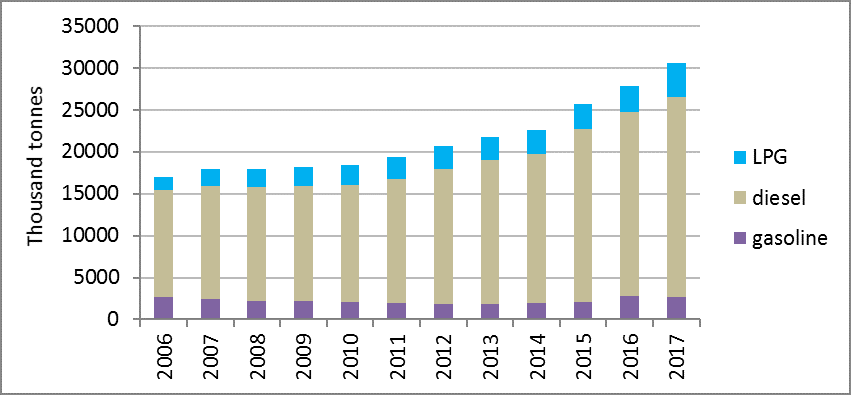 Source: Republic of Turkey Energy Market Regulatory
(1) Data includes dealer sales (including vehicle recognition system sales), sales to the free user license holders and military deliveries; but military sales directly by the refineries are excluded
At the end of 2017, among 12 million 35 thousand 978 registered cars, the share of LPG-fuelled cars was 38.4% followed by diesel-fuelled cars with 35.4% and gasoline-fuelled cars with 25.9%. 0.4% of the cars utilised unknown types of fuel[64]. According to 2016 data,  Poland is the EU country with the highest rate of LPG cars with 16%; yet the proportion of LPG cars in Turkey is significantly high compared to EU countries.
In 16 of the 24 Member States for which information is available, the majority of passenger cars were powered by a petrol engine in 2016 [65]. In 2016, 42 % of the EU-28 car fleet had diesel engines. The ratio of alternatively fuelled new cars in the fleet was around 3 % of total new passenger cars registered in the EU in 2017[66].
GRAPH 88- DISTRIBUTION OF CARS REGISTERED TO THE TRAFFIC ACCORDING TO FUEL TYPE, 2004-2017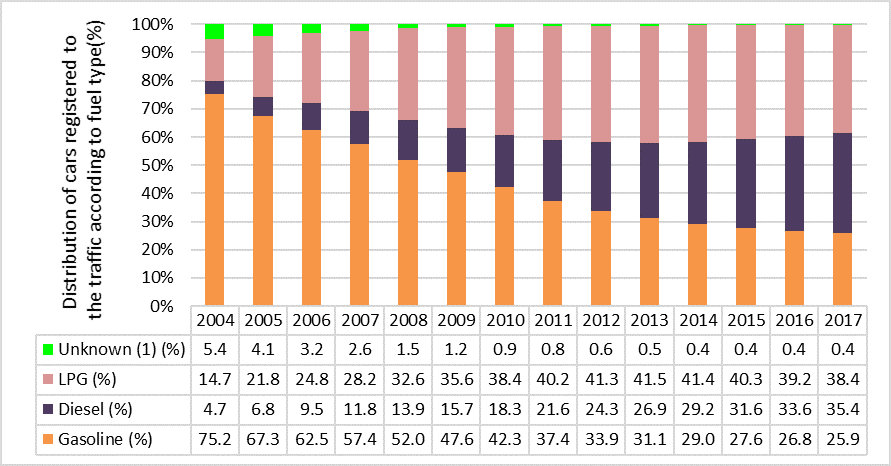 Source:TURKSTAT, http://www.turkstat.gov.tr/PreHaberBultenleri.do?id=27640
(1) Unknown includes the cars that the type of fuel field in the licence is filled incorrectly or left blank and electric cars.