This is a response indicator. Energy efficiency figures provide data for energy efficiency index, which in turn indicates amount of energy saved by manufacturing, residences and transport sectors in terms of primary and final energy consumption. This also indicates the level of contribution made to the country's economy by improwing the energy efficiency.
An average yearly  improvement has been made in the "Energy Efficiency Index", 1.8% in manufacturing, 1.9% in residences and 2.7% in transport sector. An overall yearly improvement of 2.1% has been achieved in general.
GRAPH 101- ADVANCES IN ENERGY EFFICIENCY INDEX BY SECTORS IN YEARS (2000=100)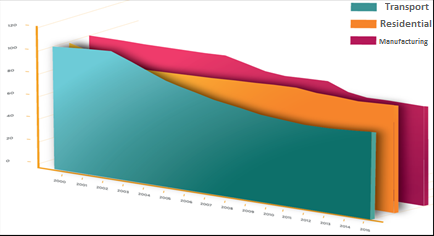 In 2000-2015 period, an improvement in efficiency of 9.7 million TOE in manufacturing, 7.1 million TOE in residences and 24.6 million TOE in transport has been achieved cumulatively, with an overall improvement of 41.5 million TOE.
GRAPH 102- CUMULATIVE ENERGY SAVINGS IN THE PERIOD 2000-2015 (BASE YEAR:2000)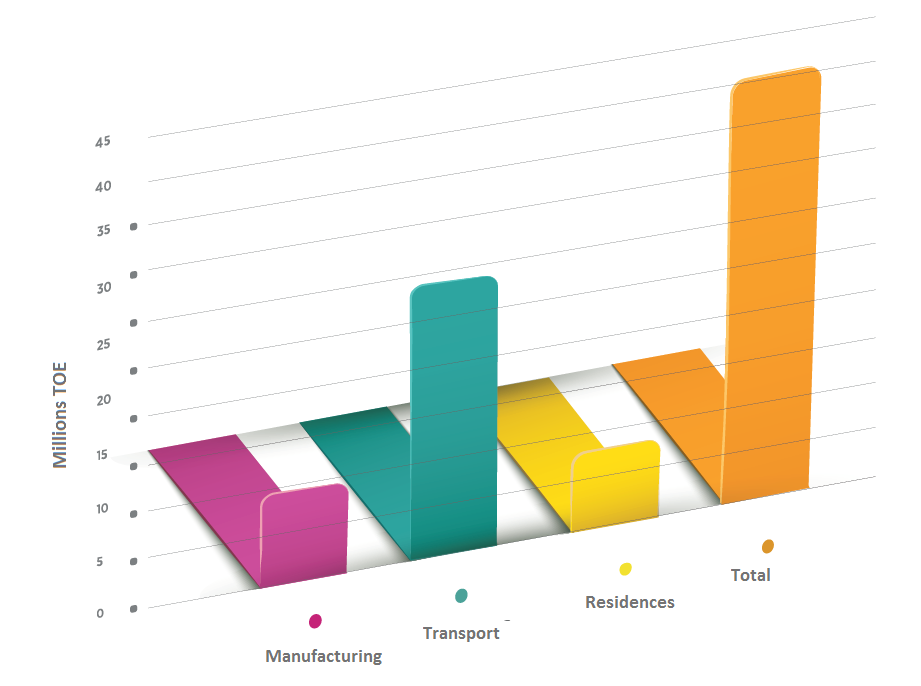 Source: Ministry of Energy and Natural Resources, General Directorate of Renewable Energy.
Energy efficiency in buildings;
When energy efficiency and savings potential of the construction sector is compared with current consumption, an achievable rate of 50% saving is foreseen. Within the scope of the 'By-Law on Energy Efficiency in Buildings (Official Journal DATE: 05.12.2008 and No:27075)', to have an Energy Performance Certificate that determines the energy consumption class of the building is obligatory. Until the end of 2017, energy identity certificates issued to total 675,750 buildings which 570,996 is new and 104,754 is existing. Renewable energy system is used in 19,745 of these buildings which have energy identification certificate.
Within the scope of the "By-Law on sharing the heating and hot water expenses in central heating and hot water systems" (as published in the official journal No: 26847 and date: 14.04.2008) all existing and new buildings are required to fulfil expense-sharing applications in central heating systems. The number of authorized measuring companies who would be preparing a measurement and expenditure sharing documents became 95 at the end of 2017. Target is to reduce the fuel consumption by average of 30% without hampering the comfort conditions in these buildings [78].