9.7- Distribution of the Forest Areas

This state indicator describes the cumulative size of forest cover. In 2015, total size of forest cover in Turkey was 22,342,935 hectares which constitutes 28.6% of the country's total surface area. Out of Turkey's forestland, 12,704 thousand hectare area is normal forest (productive) area (Tree crown cover is 11-100%), 9,639 thousand hectares are degraded areas (Tree crown cover is less than 10%). Thus, 57% of the forest cover is productive while 43% is degraded. Between 1973 and 2015, the forest cover in Turkey increased by 2,144 thousand hectares [48].
As of 2015, Turkey's forest tree growing stock was 1,611,774 thousand m3. 95% of this land is closed cover while 5% is degraded. Between 1973 and 2015 country forest tree growing stock of the country has increased by 676,262 thousand m3.
The ratio of Turkey's forest cover to the country's surface area has increased from 26.7% in 1999 to 28.6% in 2015.
According to the World Bank, the ratio of world's forest cover to the total land area was 31.3% in 2000 and 30.8% in 2015 [50].
TURKEY FOREST AREAS (2015)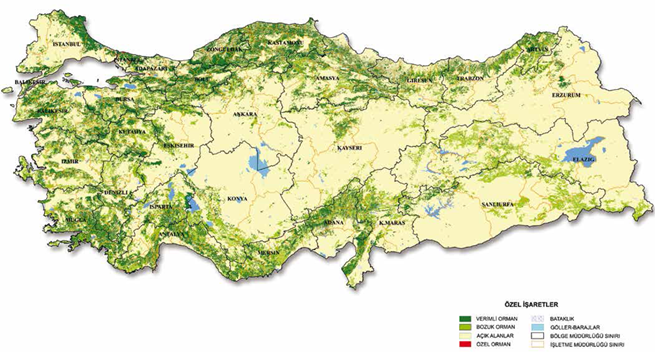 Source: The Ministry of Forestry and Water Affairs, General Directorate of Forestry, Forest Management and Planning Department, Existence of Forest in Turkey -2015
43% of the forests in Turkey are degraded and inefficient. It is crucial to rehabilitate inefficient forest lands and convert these areas into productive areas. Rehabilitation studies have been more intensive between 2006 and 2012. In 2016, 48,230 ha area was afforested, 106,267 ha area was rehabilitated, in 97,056 ha area erosion was controlled, in 12,778 ha area range rehabilitation has been done, in 3,245 ha area private afforestation were done and in 8,885 ha area artificial regeneration was done as forest establishment activities. A total of 276,461 hectares of forest establishment activities were conducted in 2016.
GRAPH 78- (1990-2016) FOREST ESTABLISHMENT ACTIVITIES (ha)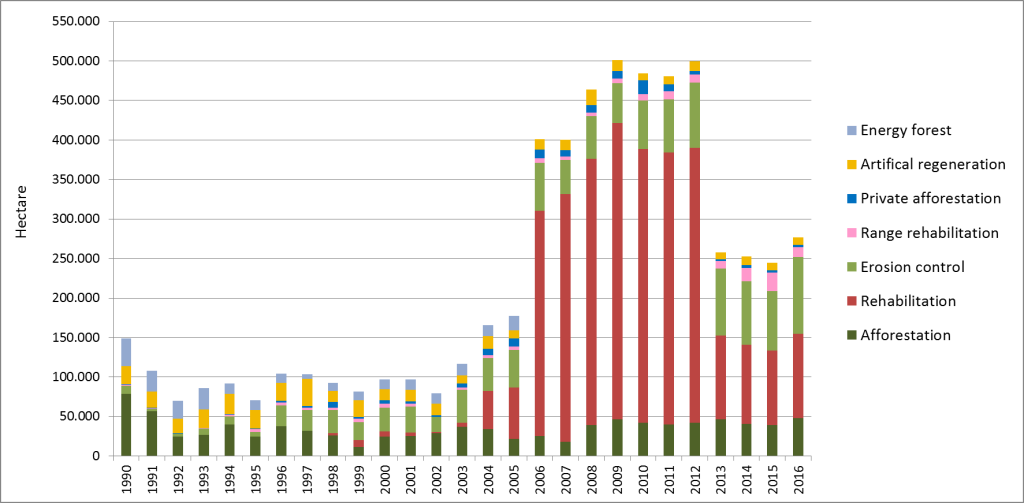 Note: Forest based works are the Works performed by Ministry of Forestry and Water Affairs and the other institutions.
Source: Ministry of Forestry and Water Affairs, General Directorate of Forestry, http://www.ogm.gov.tr/ekutuphane/Sayfalar/Istatistikler.aspx
TABLE 28- FOREST AREA THROUGH YEARS
| | | | | | | | |
| --- | --- | --- | --- | --- | --- | --- | --- |
|  YEARS | 1973 | 1999 | 2005 | 2009 | 2010 | 2012 | 2015 |
| Forest Area (hectare) | 20,199,296 | 20,763,248 | 21,188,747 | 21,389,783 | 21,537,091 | 21,678,134 | 22,342,935 |
Source: The Ministry of Forestry and Water Affairs, General Directorate of Forestry, Forest Management and Planning Department, Existence of Forest in Turkey -2015
Note: these areas which are considered as forests do not include the wooded areas (private Kemp, orchards, hazelnut groves, etc.) but cover natural, seeded or planted forest areas
GRAPH 76- THE DISTRIBUTION OF THE FOREST LAND BY FOREST FORM
Source: Ministry of Forestry and Water Affairs, General Directorate of Forestry, http://www.ogm.gov.tr/ekutuphane/Sayfalar/Istatistikler.aspx
GRAPH 77- DISTRIBUTION OF GROWING STOCK BY FOREST FORM

Source: Ministry of Forestry and Water Affairs, General Directorate of Forestry, http://www.ogm.gov.tr/ekutuphane/Sayfalar/Istatistikler.aspx