13.2- Chemical Fertilizer Consumption

This indicator is a pressure indicator in demonstrating the factors causing eutrophication. In agricultural sector, the part of fertilizer not absorbed by plants and leaking to surface waters is an important cause of eutrophication.
In Turkey plant nutrient (N, P2O5, K2O) usage was 2,807,280 tons in 2016 with 27.4% increase compared to 2015. Fertilizers were applied on a total of 24,000,000 hectares of agricultural land. Fertilizer aplication rate in Turkey is 116 kg/hectare (2016 data) while in more developed countries this rate is 200 kg/hectares in average. Overuse of fertilizers does not occur on dry agricultural land but generally on some irrigated land.
Regarding fertilizer consumption, the goal for sustainable agriculture is to apply fertilizers in a timely manner, in proper amount, by proper means and considering the soil analysis, refrain from applications that may cause water pollution, and deteriorate soil conditions and reduce fertility and promote organic agriculture practices. In this respect, Ministry of Food, Agriculture and Livestock provides financial incentives for soil analysis, inspect fertilizer producers and dealers and conducts education and publications targeting  farmers (Source: Ministry of Food, Agriculture and Livestock).
The most fertilizer consuming province in 2016 in Turkey was Konya with 8.9% of the total consumption (in plant nutrient basis). The next most consumers were Şanlıurfa (6.9%), Adana (6.1%), Diyarbakır (3.8%), Ankara (3.6%), Tekirdağ (3%), Edirne (2.9%) and Hatay (2.6%).
GRAPH 112- CONSUMPTION OF CHEMICAL FERTILIZER ON THE BASIS OF NUTRIENT OVER THE YEARS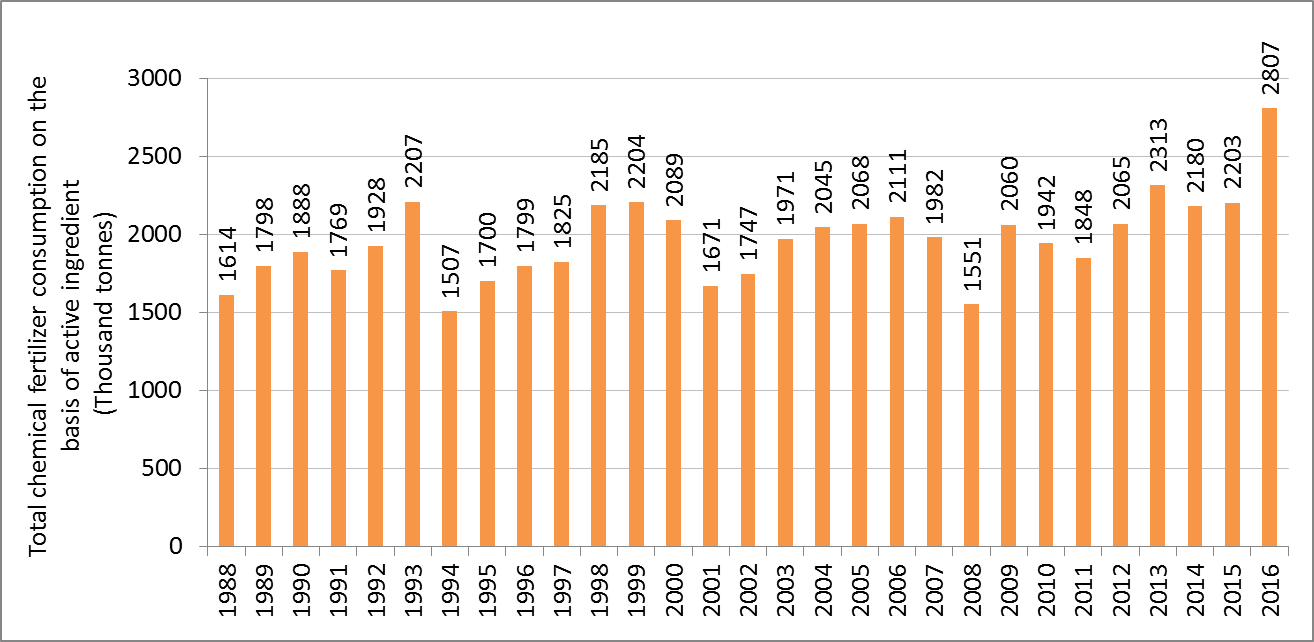 Source: Ministry of Food, Agriculture and Livestock