13.2- Chemical Fertilizer Consumption

This indicator is a pressure indicator in demonstrating the factors causing eutrophication. In agricultural sector, the part of fertilizer not absorbed by plants and leaking to surface waters is an important cause of eutrophication.
In Turkey plant nutrient (N, P2O5, K2O) usage was 2,644,333 tons in 2017 with 5.8% decrease compared to 2016. Fertilizers were applied on a total of 24,000,000 hectares of agricultural land. Chemical fertilizer usage amount as basis of active ingredient in Turkey is around 110 kg per hectare of agricultural land as of end of 2017. Fertilizer overdose does not occur on dry agricultural land but generally on some irrigated land [82].
Fertilizer consumption (Plant nutrient base) per hectare of arable land has been 107 kg/ha in Turkey, 157 kg/ha in the EU countries and 138 kg/ha as World average (Worldbank 2015 data) [81].
Main goal of managing the fertilizer use is to use the fertilizer with appropriate timing and methods and at appropriate rate based on soil analysis, to avoid the practices that will cause water pollution, disrupt the soil structure and  reduce the efficiency of the soil, to widespread the use of organic agriculture and help achieve sustainable agriculture [82].
GRAPH 115- CONSUMPTION OF CHEMICAL FERTILIZER ON NUTRIENT BASIS OVER THE YEARS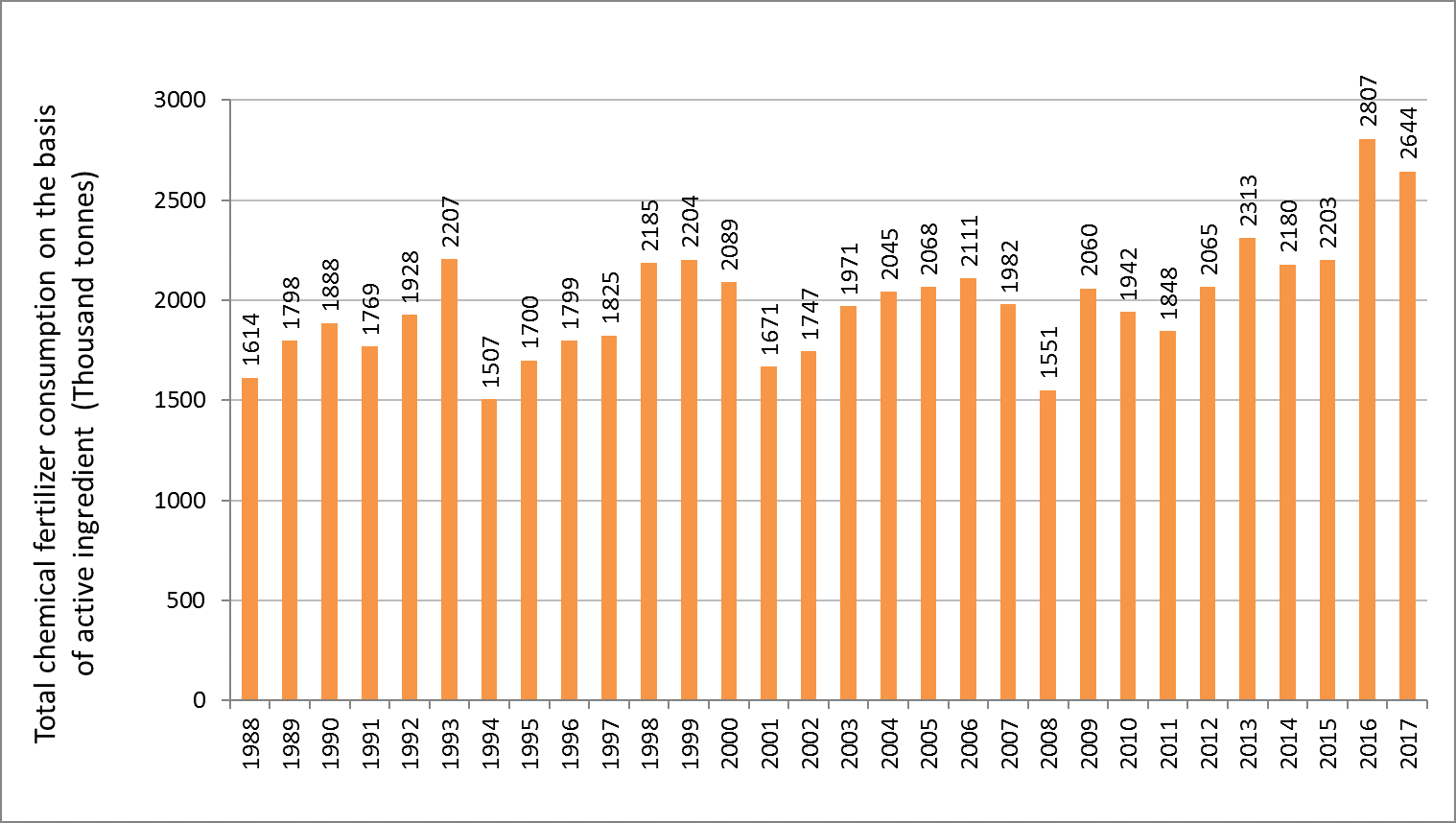 Source: Ministry of Agriculture and Forestry