15.4- Blue Flag Implementations

This indicator is a state indicator. Blue Flag is an international environmental award given to beaches, marinas and yachts having reached to a standard as stated in the criteria. Blue Flag applications which began in 1987 in Europe and in 1993 in Turkey, aim to establish high standards in beaches, marinas and yachts.
In the period from 1994-2016, the number of Blue Flag in Turkey increased steadily and reached to 444 beaches, 21 marinas and 12 yachts in 2016.
In our country, the scope of Blue Flag Programme carried out under the coordination of Turkey Environmental Education Foundation (TÜRÇEV), our country ranks second with 444 beaches, followed Spain (588) in 2016. As for marinas, Turkey ranked 7th in the World.
GRAPH 123- THE NUMBER OF BLUE FLAG BEACHES, MARINAS AND YACHTS BY YEARS IN TURKEY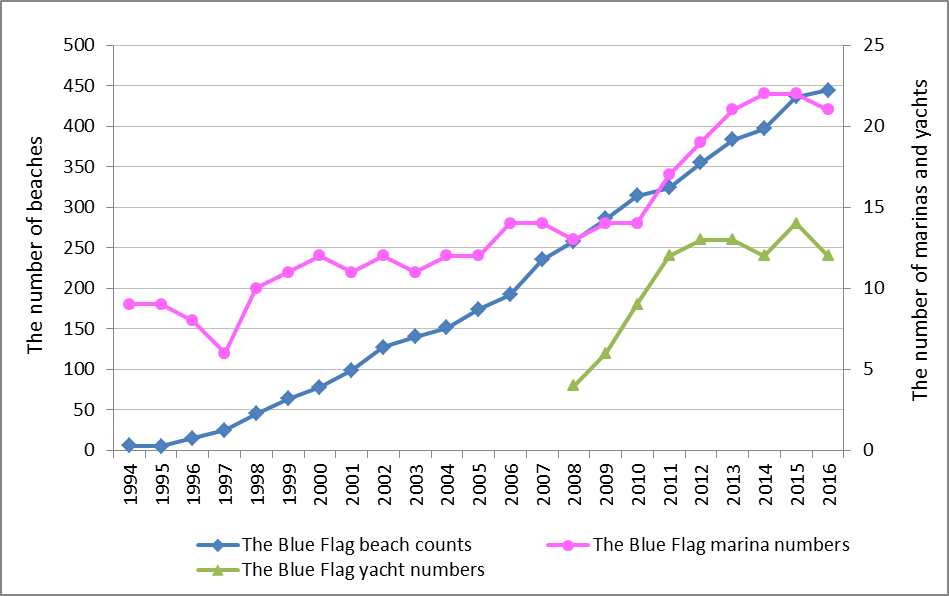 Source: Turkey Environment Education Foundation