10.7- Average Age of Vehicles Registered to the Traffic

This indicator is a driving force indicator. Average age of the vehicle fleet is an indirect indicator of environmental performance of road transport. By exchanging old and polluting vehicles with younger and less polluting ones, the value of this indicator and the impact on the environment is expected to reduce.
However despite this expectation, data shows that, average age of the total registered cars increased from 12 in 2004 to 12.9 in 2016. During the same period, average age of passenger cars has increased from 10 to 12.2 by 22%. Average ages for various vehicle types in 2016 are as follows: 12.4 for minibuses, 12.2 for buses, 10.1 for small trucks, 15 for trucks, 12.4 for motorcycles, 11.6 for special purpose vehicles, 22.9 for tractors.
In EU-27, the average age of passenger cars, even though still lower than that figure in Turkey,  has increased with 8% since 2000 and reached to 7.4 years in 2014. For other vehicle types, the average age was 8.4 years for vans, 8.1 years for heavy duty vehicles, 9.1 years for two-wheelers, and 9.4 years for buses[58].
GRAPH 90- AVERAGE AGE OF REGISTERED VEHICLES ACCORDING TO THE TYPES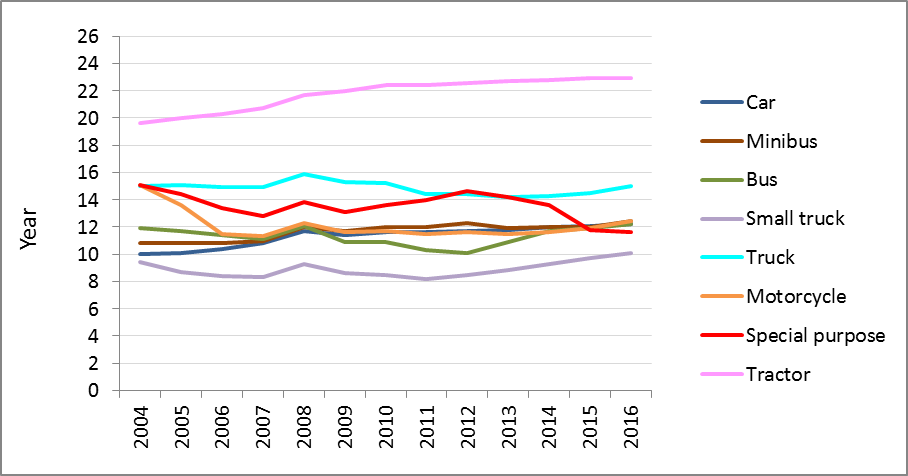 Source: TURKSTAT
As of 2016 in Turkey, age group distribution of vehicles registered: 34% of the vehicles are at 0-5 years age range, 19.3% at 6-10 years, 12.4% at 11-15 years, 12.1% at 16-20 years range and 22.3% of the vehicles are older than 20 years.