13.1- Agricultural Land Per Person

This indicator is a state indicator. While the agricultural land is essential for herbal production, pastures, winter quarters and summer pasture are necessary for the improvement of animal husbandry and protection of the nature.
According to the data from TURKSTAT, in 2016, total utilized agricultural land was approximately 38,328 thousand hectares (including permanent meadows and pastures). Of the total agricultural land, 53.2% was arable areas, 8.7% was permanent crops areas (perennial fruits), and 38.1% was permanent meadows and pastures areas.
Increase in Turkish population and decrease in total agricultural area resulted in a decline in the size of agricultural land per capita. From 1990 to 2016, Turkish population rose by 41.33% while agricultural land per capita decreased by 36.8%.
In 1990, agricultural land per capita was 0.76 hectares, this number decreased to 0.48 hectares by 2016. As of 2016, when total arable land and land under permanent crops are considered (23,711 thousand hectares), area per person was 0.3. Arable land available per person for the world is 0.2 hectares and 0.21 hectares in European Union in 2014 [74].
GRAPH 111- AGRICULTURAL LAND (TOTAL AND PER CAPITA) THROUGH THE YEARS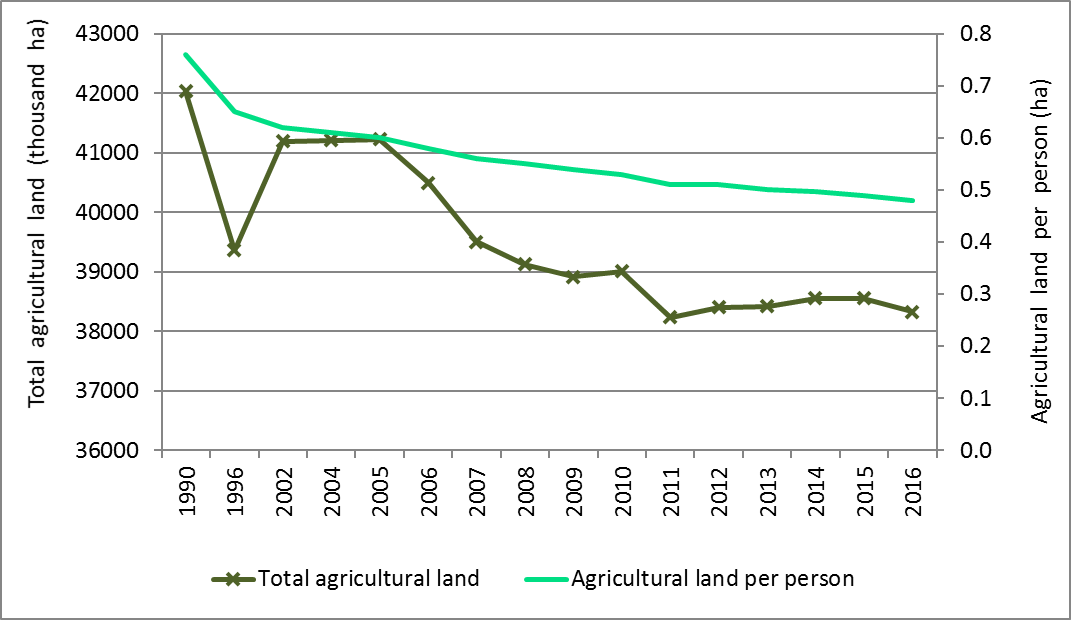 Sources: Ministry of Food, Agriculture and Livestock, TURKSTAT
Notes:
Data are results of 1980, 1991 and 2001 General Agricultural Censuses.
Since 1995, only the closed area of fruit and olive trees have been given and the area of scattered trees have not been included.
Data are grouped according to Statistical Classification of Products By Activity in European Economic Community (CPA 2002) since 1995.
Data are not included secondery area since 2011.